Georgia "unacceptably poor" under Saakashvili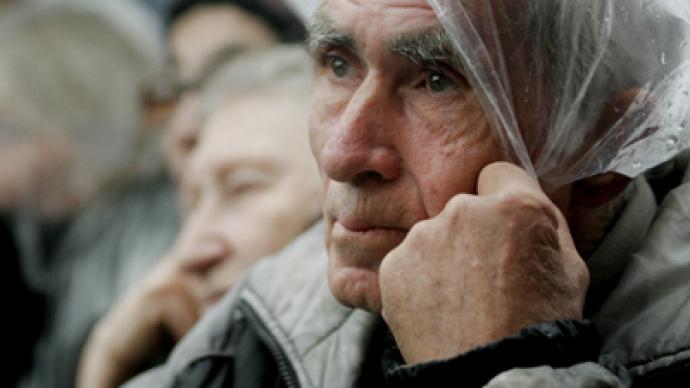 While the Georgian leadership keeps boasting about their achievements, a poll has revealed that 60 percent of the population disapprove of the government's economic policy and criticize the pension system, as well as healthcare accessibility.
The IPL Strategic and Marketing Research Center, with the assistance of the Association of Young Businessmen and Financiers, carried out a poll to find out what ordinary Georgians think about the economic situation in the former Soviet republic and how it hits their wallets.The researchers discovered that 62.5 per cent of Georgians do not support the economic policies being pursued by President Mikhail Saakashvili and his government, while 23.5 per cent support it. Another 14 per cent of respondents refused to answer the question, writes Interfax, citing the poll results.As for pension security and healthcare accessibility in the country, over a third of Georgians feel quite positive about it. Nevertheless, 66.4 per cent are displeased with the authorities' activities concerning these vital sectors. The respondents were also asked about how their family income had changed within the past five years. Forty six per cent complained that it had decreased, 22 per cent said that it had gone up, and 32 per cent stated that there had been no changes.Out of 1000 people that the research center polled, 35.5 per cent said they had permanent jobs and about a quarter of respondents said they were self-employed. A total of 11.5 per cent said they were temporarily out of job, and 27.5 per cent described themselves as jobless.The Georgian leadership does admit that the country is still "unacceptably poor" and there is an unemployment problem. However, the official data does not always match independent polls and the statistics that the opposition cites. And that is quite understandable as Saakashvili and his team need to create an image of stability and permanent economic growth in their "democratic" country to attract foreign investment.For instance, speaking in June at a live televised meeting with regional governors, the Georgian President vowed that 2013 will become "a historic year for Georgia". He explained that it is "not because my presidential term will expire, but because in 2013 such things will be done in Georgia, which have never been done before –the best roads will be everywhere… and there will be water supplies in all major areas… and in 2013 the unemployment rate should go down from 16 to 10 per cent," Saakashvili said, as quoted by Civil.ge news website.Meanwhile, according to the Georgian opposition leader Nino Burjanadze, there are far more jobless people in the country. Citing a report submitted last November to the Hague Prosecutor general by the "Our Georgia" party, she said that while Saakashvili was in power, unemployment had reached 65per cent – four times higher the figure cited by the president.The year 2013 will mark a decade after the so called Rose Revolution in 2003 which brought President Saakashvili to power. However, according to the leader, it is not enough for the positive changes to be seen. In his view, the reality of the situation is pretty simple, and it is the people's "mentality" that's to be blamed. It needs to be changed, which will require at least 15 to 20 years, Saakashvili said while speaking at the national Mercury business awards ceremony on May 11."This government has been in office for less than seven years. In terms of history, this is nothing. At least 15 to 20 years are needed to change the [people's] mentality – I think this is the minimum period for change, to be on the way to becoming a rich country. We are still unacceptably poor," Saakashvili said as cited by Tbilisi Times. At any rate, the leader of Caucasian state has repeatedly boasted that his country is "an example of one of the most dynamically developing and reform-minded countries in the world," which was achieved thanks both to his efforts and those of his absolutely "uncorrupted" government. The latter statement is rather questionable. David Berdzenishvili, one of the leaders of the Georgian opposition Republican Party, agrees that the current leadership managed to build up "a police state" with a rather "decent facade"."Yes, there is almost no corruption in Georgia on the lower and middle levels. But Georgia has huge-scale elite corruption," he said earlier in August in an interview with Kommersant daily. The president has repeatedly vowed to turn Georgia into the region's Singapore. The question is whether the population would like their country to take that path.According to the IPL Strategic and Marketing Research Center poll, 68.5 per cent of respondents support the European economic model, 7.2 per cent would rather follow China's footsteps, and only 6.1 per centprefer theSingaporean economicmodel.