Zhirinovsky invites Gaddafi to move to Moscow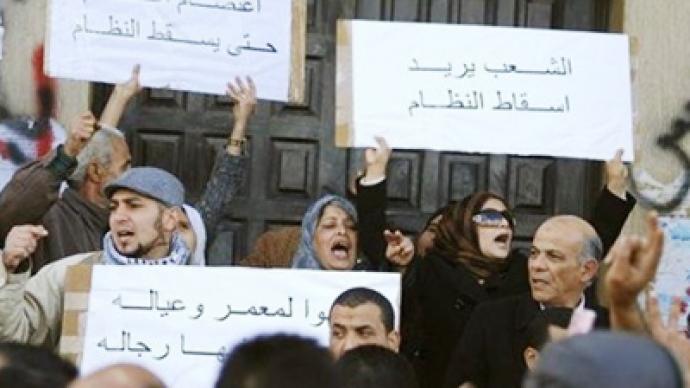 The leader of Russian Liberal Democratic Party (LDPR), Vladimir Zhirinovsky, has called on Colonel Muammar Gaddafi to stop the bloodshed in Libya and invited the country's leader to relocate to Moscow.
According to Zhirinovsky, Vice Chairman of the State Duma, the time for change has come in the Arab world, where "real revolution" has erupted. "The situation has changed and people no longer want to live as they have for the past 10-30 years," he said, as quoted on LDPR website.Libyan strongman Gaddafi has been ruling the oil-rich state for 41 years after seizing power in a 1969 coup. According to Zhirinovsky, he did a lot for the development of his country, but now Libya needs to take a different path. "You should understand, changes are inevitable," the Russian politician said addressing the Libyan strongman. "What is most important now is that everything should be done to stop the violence in the country." Zhirinovsky called on Gaddafi to think about the future of the Arab state and refrain from "vain attempts to suppress people's will". In conclusion, Zhirinovsky – known for being quite an eccentric politician – invited Muammar Gaddafi to move to Moscow and settle as "a dear guest".The anti-government protests which started last week in Libya's second largest city after the arrest of a human rights lawyer have now spread to the capital, Tripoli where a government building was reportedly on fire on Monday morning. Scores have been killed and hundreds wounded as the leadership strives to put down the riots and maintain power, along with government supporters clashing with those who demand Gaddafi be ousted. While the whereabouts of the long-time Libyan leader are currently unknown, one of Gaddafi's sons, Saif al-Islam, appeared on TV early on Monday warning that the unrest may bring the country is on the verge of a bloody civil war. He vowed to "keep fighting until the last man standing" and said that they "will not leave Libya to the Italians or the Turks". He added that Muammar Gaddafi is leading the battle in Tripoli, "and we are behind him as is the Libyan army".The younger Gaddafi also promised dialogue on constitutional reforms within two days and said Libyans should "forget oil and petrol" and prepare themselves for occupation by "the West" if they failed to agree, Al Jazeera cited. Meanwhile, according to latest reports, the death toll in Tripoli has reached 61 on Monday.
You can share this story on social media: