Egyptian demonstrators celebrate stamina
Published time: 2 Feb, 2011 11:56
Edited time: 16 Feb, 2011 15:44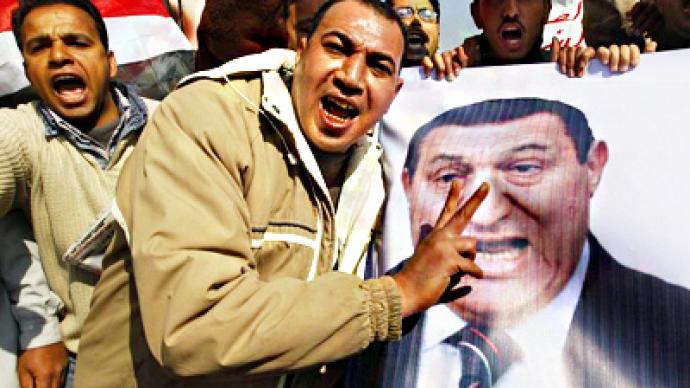 RT's Nadezhda Kevorkova, who is in the thick of events on Tahrir Square in Cairo, has witnessed personally that decades of Hosni Mubarak's regime have left Egyptians no other choice but to strive for his resignation at any cost.
­On Tuesday night and Wednesday morning tens of thousands of protesters in Cairo violated the curfew, but showed that they were not the source of danger.
The curfew in Cairo is from 3pm until 8am. People and cars have seven hours a day to move around. I left Tahrir Square at 5pm and decided to return at 8.
"Aren't you afraid for your life?" the guard asked me as he was opening the back door. I wrote the article in the business center of this upscale Cairo hotel, desperately hoping that this place would get internet connection eventually. It didn't. The guards let me and my colleague out, looking at us with fear, "Are you hoping to come back alive?"
I was hoping to spend a few hours at Tahrir Square, then take a taxi and return to my hotel. Crowds were walking along the Nile. These people were clearly not afraid of anything. They weren't scared of the Army, looters, and the curfew. There were fewer people at Tahrir Square than in the afternoon, but still a lot. Two loud crowds were moving towards each other waving gigantic flags. They met up and started shouting, "Mubarak, go away. We will stay at this square until this Friday, until next Friday – as long as it takes for you to leave!"
Hundreds of people sat on the lawn, eating. Some were sleeping, even though it was starting to get cold. Boys had climbed up street lamp posts and sat there yelling curses at Mubarak. A big screen showed video footage from the afternoon demonstration. It had already been announced that all members of the opposition committee were not going to engage in any negotiations neither with Mubarak, nor his people. Mubarak himself announced on February 1st that he was not going to step down before the elections in September.
People at Tahrir Square were sure they had won. They videotaped each other with their phones and cameras and rejoiced in the fact that so many people showed their disobedience walking around the city after curfew. The only thing that the army could do was to stop the few cars that dared to drive around the city.
"Do you think the army will eventually side with the people or not?"
I start talking to a couple of educated people standing on the bridge: an older professor and his friend, also a teacher. We are standing next to two Abrams tanks and three soldiers guarding them. The two men don't expect anything from the army.
"People hate the police. They allowed for these clashes to happen, they killed people. There are no policemen in uniforms on the streets now, but they organize provocations. Many think that they were the ones behind all the looters, so that this people protest would look ugly. The army definitely supports the authorities, but the army is not violent towards the people, and that is good."
We finished our conversation, and I returned to my colleagues at the hotel, because I had no energy left and could no longer walk around Cairo. Many journalists had formed these traveling gypsy groups, setting camp wherever curfew found them. Our hotel is the only one in the city that doesn't close doors after curfew. The rest of them sealed their front entrances and first floor windows with metal boards and turned into fortresses.
The same guard opened the door, "What can you tell about the demonstration?" I was hoping he would say something in support of the current regime.
"My father got married, got old and died, and Mubarak was in power all this time. I was born, and I guess Mubarak will still be in power when I die. Since we were children we have been told what to think, do, and whom to elect. People are fed up. Why does Egypt listen to the US and Israel in everything and why are we told that this is the right thing to do? America has seen five presidents in thirty years, and we still have the same one".
All night long TV stations were working to glorify Mubarak. They showed films about young Hosni's life and works. After old footage there were live broadcasts – people called Mubarak father of the nation and expressed their disagreement with what was going on at Tahrir Square.
The first person I talk to in the morning sounds like he has been watching TV all night and all morning. "The whole country is for Mubarak. Look at how much he has done for people. Things have been calm in the country since 1991. Look – he knows how to have peace with everyone. America, Russia, Israel… Who is ElBaradei? He has not lived in the country. What does he know about Egypt? And what about this Muslim Brotherhood? If they come to power, we will have complications with Israel again. They will not want to talk to them. Then what, war again? Why would I want war? Look – Mubarak achieved peace for the country. The protests only cause people to lose money, their daily provision. Just look around – everything is closed. Thanks to Mubarak, our children can sleep outside and not be afraid. You know what I mean…"
­Nadezhda Kevorkova, RT, Cairo, Egypt