Defaulting on dictators: hunt for Gaddafi's loot begins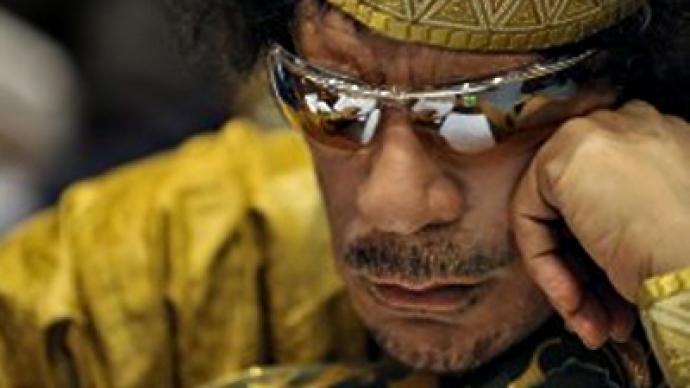 With Gaddafi's hold on power fading fast, financial authorities in the UK and Switzerland say they are in the process of freezing the Libyan leader's accounts, while the embattled government denies such funds exist.
­Switzerland on Thursday ordered a freeze of any assets being held by Libyan leader Colonel Muammar Gaddafi in Swiss banks.The Swiss government says it ordered the freeze "in view of the developments" in Libya, where security forces have initiated a crackdown against anti-government demonstrations. Protesters across the country are demanding that Muammar Gaddafi, who has been at the helm since 1969, relinquish his grip on power. Thus far, however, the Libyan strongman has remained defiant in the face of the nationwide uprising, saying he is prepared to "die a martyr" rather than give up his post.In a statement Thursday, the Swiss Cabinet said it wants to prevent the misuse of any possible Libyan assets remaining in Switzerland.Libya's Foreign Ministry, however, strongly rejected claims that Gaddafi holds banks accounts in Switzerland, and are demanding that Swiss authorities provide proof of their claims."We demand that … Switzerland proves that the brother leader has funds or bank accounts in its banks or in any other banks around the world," the ministry said in a statement."The Foreign Ministry will take all the legal procedures to sue the Swiss government for this unfounded statement," it warned.The Libyan ministry added that the Swiss statement showed "the degree of its animosity towards Libya and its leader."Meanwhile, many Libyans are now voicing their criticism of those Western nations where Gaddafi is believed to have invested his money at the expense of his people."Why did our streets have to explode in such a way for the [global community] to understand our desperate situation," asked one political activist in Tripoli, who declined to be identified out of concern for her safety. "For years [Colonel Gaddafi's] blood-stained money has gone into Western banks, but only now that we have risen up against this tyrant do they take steps to freeze his money."The political activist added that she believed all of the funds held by Gaddafi abroad "should be returned to the Libyan people to help us rebuild our country."Banking with dictatorsJames Nason, head of the international relations department of the Swiss Banking Association, told Rossiiskaya Gazeta in an interview that although it is difficult to trace such funds back to political leaders, the Swiss banking authorities "know how to do it.""Those clients fall under the category of 'politically vulnerable persons.' This does not mean that they are automatically regarded as potential criminals, but the Swiss banks have a very effective system of checking the information," Nason revealed. He then noted that dictators do not make a habit of opening bank accounts in their own names."As a rule, no dictator opens bank accounts to his proper name. They use some companies or lawyers. Sometimes they open bank accounts to the names of their bodyguard or their mistress," he said. Nason then mentioned ex-Egyptian President Hosni Mubarak, a one-time friend of the West who became a political liability once his harsh crackdown on protesters began.Mubarak's bank accounts did not alienate Swiss bankers during his presidency, because at the time "he was a friend of the West and the leader of Egypt," he explained. "He held on to his post for several decades and all of a sudden was turned into an ex-dictator. It is an intricate political game." London joins the huntAs Swiss officials begin the task of pouring through Gaddafi's reported account, the UK is hoping to have a smoother time getting its hands on Gaddafi's London investments than it did getting British nationals out of Libya.As the Telegraph reported, "the British Government struggled to assert its authority following a chaotic few days…when [Deputy Prime Minister] Nick Clegg said he 'forgot' he was supposed to be running the country in [Prime Minister] David Cameron's absence."Hundreds of Britons were finally able to escape Libya in military planes, as well as on a Royal Navy warship after several hellish days stranded in the country. By Thursday night, an estimated 350 British nationals had been rescued. "The first priority is to get British nationals out of Libya," the paper quoted a Whitehall source as saying. "But then we are ready to move in on Gaddafi's assets, the work is under way. This is definitely on the radar at the highest levels." According to British media, Colonel Gaddafi had stashed a vast amount of his personal wealth in the UK, which includes billions of dollars in bank accounts, commercial property and a sprawling mansion in the outskirts of London. Overall, financial experts say that Gaddafi has about £20 billion in liquid assets, mostly in London. Despite these reports of great wealth stashed in Swiss and British investments, news of other Gaddafi financial havens continues to pop up.This week, the Dutch newspaper De Volkskrant reported that Gaddafi keeps part of his financial empire in the Netherlands. The Libyan oil company Tamoil, which is headquartered in the Dutch town of Ridderkerk, owns about 160 petrol stations in the Netherlands.De Volkskrant reported that Tamoil is a subsidiary of Oilinvest, which is headquartered in Monaco and active in other European countries. Oilinvest trades in crude oil and refined petroleum products, as well as the transport, storage and distribution of oil. A company which extracts oil and gas for Colonel Gaddafi in Libya, France and Canada is also registered at the same address in Ridderkerk. In 2009, Tamoil reported a net profit of 26 million euros.Meanwhile, according to Radio Netherlands Worldwide, yet another chunk of Gaddafi's fortune is in Italy, the former colonial power in Libya, where Tamoil is the biggest player in the fuel market. "Colonel Gaddafi also owns shares in UniCredit, one of the biggest Italian banks, and in Finmeccanica, which produces defense equipment. Financially less impressive, but still worth mentioning, is the Libyan leader's stake in football club Juventus," Radio Netherlands reported. "All the Colonel's assets are bundled in the umbrella investment company Great Socialist Peoples Libyan Arab Jamahiriya, which has been headed by Gaddafi himself since 1969. De Volkskrant estimates his total financial worth at 60 billion euros."However, although the Libyan dictator's assets are spread across Europe, the lion's share – over $40 billion – is believed to be squirreled away in Libya itself.For many Libyans, who are suffering from lack of employment opportunities, compounded by a surge in global food prices, that amount of cash may be something worth fighting over. It also seems to be enough for the Libyan leader to die for.
Robert Bridge, RT