Israel blocks delivery of Russian armored vehicles to Palestinian territories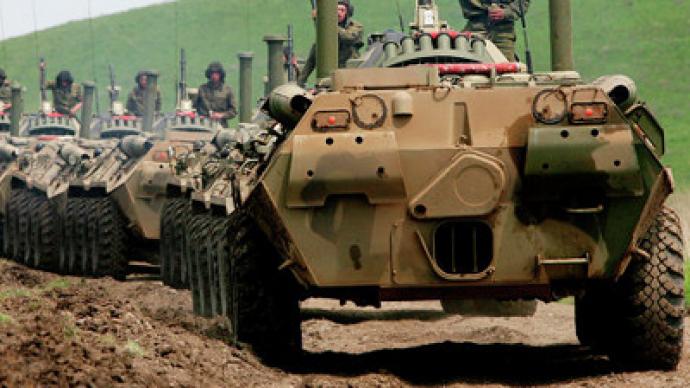 As the West Bank gears up for next week's visit by the Russian President, the Palestinian National Authority (PNA) says Israel's decision to delay delivery of Russian armored personnel carriers (APC) to Palestinian territories was without just cause.
"There is a problem with Israel's abandoning all of its promises, with its totally unmotivated abandoning of its own resolutions,"  PNA President Mahmoud Abbas said in an interview with Interfax."Such a controversial Israeli position has puzzled us, our Russian friends, as well as Americans, because there is virtually no reason for such refusal by Israel that is still not letting these APCs pass through," he said.Abbas added that the Israeli authorities had also refused permission for the delivery of assault rifles and ammunition for local security agencies.Earlier, Israel had agreed to the supply of the Russian APCs for PNA police and security forces, provided that machine-guns were removed from them. The PNA leader said that 50 APCs are now sitting in Jordan, where they were delivered on July 19, 2010.Meanwhile, the Palestinians are anticipating next week's visit by Russian President Dmitry Medvedev to Palestine, a trip that will also include a visit to Jordan."President Mahmoud Abbas and the Palestinian people look forward with much joy to the visit of President Medvedev to Palestine,"  Palestine's ambassador to Moscow Fayed Mustafa told Itar-Tass on Thursday. "The visit opens great prospects for the development of bilateral relations between the countries in every area."The official added that the opening of the Russian Museum in the city of Jericho will take place during the visit, and a number of bilateral agreements will be signed.But most importantly, the Palestinians hope the visit will provide a fresh impetus to international efforts to move forward with the ongoing peace process in the Middle East.Russia has proposed holding the next meeting of the Quartet on the Middle East, a group of international mediators comprised of Russia, the EU, United Nations and the US, on the sidelines of the Munich Security Conference in early February, Russian Foreign Minister Sergey Lavrov said at news conference in Moscow on Thursday.Lavrov added that such a meeting should involve representatives of all parties involved in the peace process."As we suggested earlier, we think it is very important that this meeting should involve representatives of the Arab League. Ideally, it should be attended by the Israelis and Palestinians," he said.
Robert Bridge, RT