23 Russians among world's 500 most powerful people - report
Published time: 5 May, 2013 21:21
Edited time: 5 May, 2013 22:24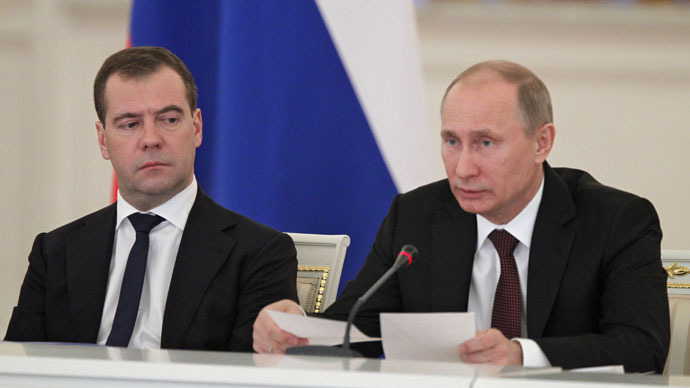 23 Russian citizens have made it into the Foreign Policy magazine's list of the world's 500 most powerful people. Dominated by leaders in politics and business, there's also one military official and one mafia boss in the rankings.
The so-called Power Map was compiled on the basis of other influential ratings by such issues as Forbes, Times, Vanity Fair, Wall Street Journal, Global Finance and others.
"Think of it as a list of all the most important other lists," the magazine explained.
The list of 500 most influential people in the world, which has been put together by the Foreign Policy for the first time, will be published by in its May/June magazine's "Power Issue".
According to the magazine, it brings together the individuals, "who control the commanding heights of the industries that run the world, from politics to high finance, media to energy, warfare to religion." 
The listing has recognized the global influence of Russian President Vladimir Putin, Prime Minister Dmitry Medvedev, Foreign Minister Sergey Lavrov and several other high-ranked officials across the financial and security spheres.
The appearance of Moscow mayor, Sergey Sobyanin, in the selection came as somewhat of a surprise to many, but the head of the capital's administration, who replaced Yury Luzhkov, took the same position in 2010, is seen as an important member of Putin's team. 

Russia's business elite also has a strong showing on the Power Map as it includes the likes of Gazprom CEO Aleksey Miller, Rosneft President Igor Sechin and the heads of other big companies dealing in natural resources energy and telecom.

The co-owner of the biggest online company in Russia, Mail.ru Group, Yury Milner, who is an investor in an investor in Facebook, Twitter and other global Internet brands, also made it to the list.
Milner's partner at Mail.ru and Russia's richest man, Alisher Usmanov, whose fortune is estimated at US$18.1 billion, predictably reserved a spot on the list.
Unexpectedly, the magazine's Top-500 also includes Semyon Mogilevich, who also represents Russia on the FBI's list of Ten Most Wanted Fugitives and is considered to be the "boss of bosses" of the Russian mafia by the US and European law enforcement officers.
Mogilevich, who is also known as Sergey Shnaider, is suspected of involvement in illegal arms trade, drug and sex trafficking as well as money laundering.
The list is arranged in alphabetic order and is dominated by Americans, occupying 142 positions.  Men far outshone females in the rankings with just 50 spot on the Power Map going to women.