Ethnic clashes may lead to change of Russia's migration rules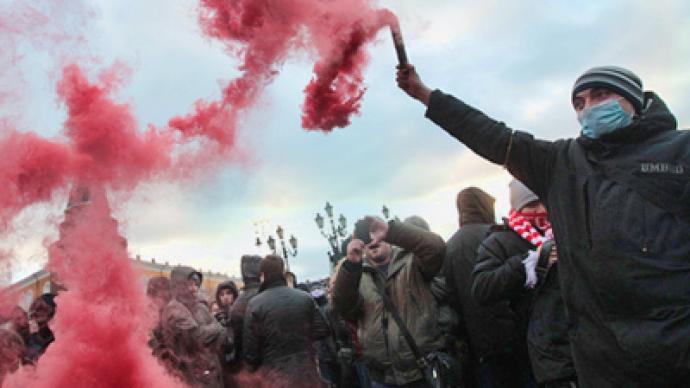 Premier Vladimir Putin has said that if ethnic clashes in Russia continue and people of different nationalities do not learn to respect each other, authorities will have to change the migration legislation, at least in large cities.
On Tuesday, the head of the Russian government met with representatives from football fan clubs, including supporters of North Caucasian clubs. "…If we do not respect each other, what will we have to do? To put it mildly, we will have to improve the registration rules on the territory of the country, especially in Moscow, St Petersburg and other large cities," Putin said, cited RIA Novosti. Currently, in line with the Russian Constitution the registration rules for migrants have been "liberalized as much as possible".The possible move follows a sharp rise in violence this month. The unrest started after the December 5 shooting of a Spartak Moscow fan, Egor Sviridov, in a brawl with migrants from the North Caucasus. On December 11, several thousand football fans gathered in Moscow and St. Petersburg to commemorate the 28-year-old's death. The peaceful rallies turned violent and led to clashes with police and attacks against ethnic minorities.In an attempt to prevent any further escalation in violence between Russian nationalists and North Caucasian people, police detained hundreds of suspects last week. But such measures are only a temporary solution to the problem and the leadership is now seeking a way out of the complex situation. Putin said he only found out about the soccer fans' meeting on Monday, but changed his schedule to talk to them.The premier expressed concern over the weakening of immunity to nationalism and xenophobia in the country, which can be seen at stadiums as well. He pointed out that the whole world is now open, different teams have players from different countries. But the country that isolates itself comes to nothing, since an open country cannot be nationalistic, Putin said."Everyone has his small Fatherland which we are proud of. But I wouldn't give ten kopecks for the health of the person from central Russia who would show disrespect to the Koran in the North Caucasian republics," he said. People from those regions, for their part, should respect customs and laws of regions they are coming to. In Putin's opinion, Russia's ethnic diversity is one of its strong points. "But if we do not learn to use this strength, if we act like the crazy, running around with a razor, we will destroy [the country]." National minorities should also work with people and take an active part in prevention of crime. "That refers to all diasporas no matter where they are: to Russians – in the Caucasus, to national minorities in Moscow and St Petersburg and so on".Putin has called on soccer lovers to resist provocations. "Fan clubs have always been independent," but lately extremists have been attempting to disguise themselves as part of football fans' army. He called on the youngsters to resist any attempts to control and manipulate them. The radicals' goal is to destabilize the country and later claim that it's no one but them who knows how to settle that.As for the murder of Sviridov, Putin said it is a tragedy and an attack on the entire Russian football community – regardless of place of residence, religion or nationality.The premier was also concerned why the fan's suspected killer – who was convicted of another crime just a year ago – was out of jail. "[The suspect] has served jail terms twice: once for hooliganism and infliction of grave bodily harm and a second time for drugs. He was convicted in 2009. It's not clear how he found himself in Moscow as early as 2010 to commit the murder," he said, cited Itar-Tass.Later on Tuesday, Putin, accompanied by football fans, visited the cemetery where Sviridov was buried and laid a wreath at his grave.