Fair Russia goes radical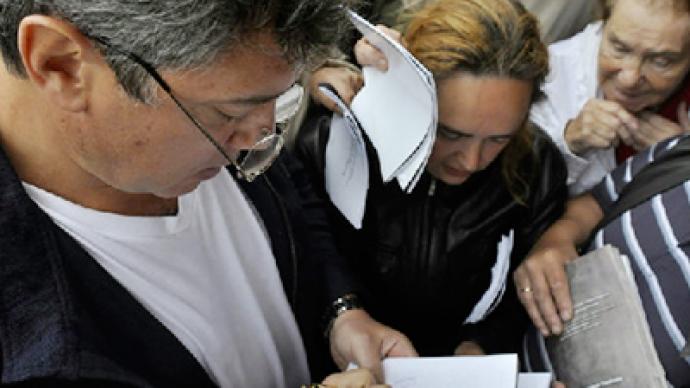 The opposition party is trying to boost its ratings by reaching out to radical politicians and pundits who challenge the government's course.
Fair Russia is mulling over its election strategy against the backdrop of the recent exodus of several high-ranking members. As the party led by former Federation Council speaker Sergey Mironov seems to be losing voter support, the idea has surfaced to invite opponents of the government, including opposition leaders Boris Nemtsov and Vladimir Ryzhkov. Igor Yurgens, the head of the Institute of Modern Development (INSOR) may be invited as well, Vedomosti daily writes on Monday. Some of Mironov's followers want Fair Russia to openly challenge Prime Minister Vladimir Putin's course and enlist the support of his most radical opponents. The irony is that Mironov, who was recently recalled from the upper house by United Russia, a party led by Putin, has been considered the prime minister's close ally for many years.  After Fair Russia kicked out several "traitors" last week for participating in the primaries organized by United Russia and Putin's Popular Front, the party has been in search of "new faces." Many believe that Fair Russia will have a hard time finding a place in the next parliament as they face the now daunting task of clearing the 7-percent threshold. The party badly needs to make its appeal to voters as clear as possible and some radical opponents of the government may be helpful.To that end, Fair Russia's leadership has conducted preliminary talks with co-chairmen of the unregistered Party of People's Freedom (Parnas) Boris Nemtsov and Vladimir Ryzhkov, sources say. Some United Russia's members who have lost their seats on the party's roster may join its rival as well. Representatives of Fair Russia say that Yurgens or Ryzhkov, if not willing to join the party, could at least support its strategy. But both men denied that talks had taken place. Yurgens is considered to be sympathetic to Right Cause, a party led by billionaire Mikhail Prokhorov. The pundit recently co-authored an article arguing that President Dmitry Medvedev's possible refusal to run for a second term may "cause a political and economic catastrophe."
Fight for electorate
As for Nemtsov, he said there had only been a discussion with Fair Russia's people regarding the current situation, and that he or his allies were not going to join that party. It has lost its identity, he stressed. However, the former deputy prime minister in the Boris Yeltsin government has supported Fair Russia's plan to push for presenting voters with a new program, which would  clearly announce its opposition to the government.Any cooperation with Fair Russia is possible only after an establishment of its "political self-determination," Nemtsov told Interfax on Monday. Ryzhkov in turn said he would not join any party as an individual. However, a political union of two parties should be seriously discussed, he noted.    On Sunday, Nemtsov was detained by police in St. Petersburg during a protest against the current governor Valentina Matvienko. She is on course to be elected to the Federation Council and is bound to take Mironov's place as the chairman of the upper house.    Potential Parnas supporters may switch over to Fair Russia if the latter party makes its program understandable to the people, believes political scientist Mikhail Vinogradov.President Dmitry Medvedev commented on the situation regarding Parnas in a June interview. He said there had not been any political motives in the Justice Ministry's decision not to register the party. He suggested that the party leaders should correct mistakes in the party's application for registration, remove the "dead souls" from the list of its members and apply again.