St. Petersburg parliament recalls upper house speaker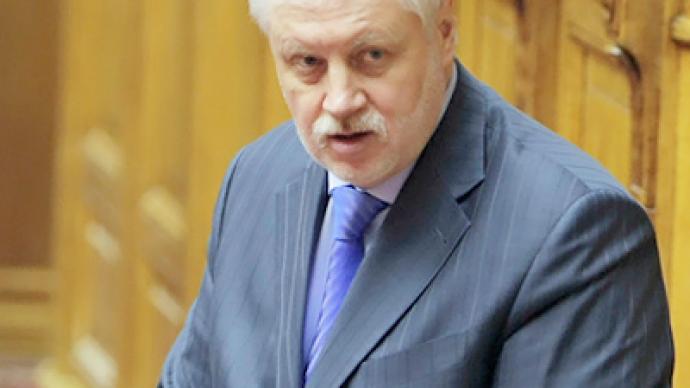 Deputies of the legislative assembly of the second largest city in Russia on Wednesday voted to recall Federation Council speaker Sergey Mironov from the upper house.
Mironov no longer represents the city of St. Petersburg in the upper house of the Russian parliament after 43 out of 50 deputies of the legislative assembly voted to terminate his powers. That means that the upper house of the Russian parliament will have to elect a new speaker – an unprecedented case in Russian political practice.The faction of the ruling United Party in the city's legislative assembly has demanded the recall Sergey Mironov, who informally heads the opposition Fair Russia party from the upper house of the Russian parliament. United Russia's leadership has supported Mironov's recall. It requires a simple majority of the St. Petersburg deputies' votes (26 out of 50). The ruling party has 23 seats in the city's parliament, but representatives of the Communist Party faction (nine deputies) and Liberal Democratic Party (five deputies) voiced their support for the recall during an emotional meeting on Wednesday. Surprisingly, two members of the St. Petersburg legislature who represent Fair Russia also voted in favor of the recall, saying that the move would allow Mironov to fully concentrate on political struggle with United Russia. Soon after the vote the head of Fair Russia's St. Petersburg branch said that those two deputies were expelled from the party as "traitors".Chairman the legislative assembly Vadim Tyulpanov said that the decision to withdraw Mironov will end an unnecessary compromise between the United Russia and Fair Russia parties. Mironov was appointed to represent the city's interests in the upper house thanks to the votes of the ruling party. Recently, Liberal Democrat party leader Vladimir Zhirinovsky described this compromise as a political absurd.Tyulpanov said that Mironov has failed to advance the city's interests in the upper house, did not support local deputies initiatives and discredited St. Petersburg by calling it "the most corrupt city" in Russia.Speaking at the meeting, Mironov explained he understood that the deputies would vote for his withdrawal and described united Russia as "a club for bureaucrats." He expressed hope that after December elections his party would have a majority in the city's parliament.
"Real politics"
Beginning his speech, Mironov said it was "easy and pleasant to tell the truth." He condemned the ruling party's deputies for launching a "witch-hunt" in the country. "I'm not interested in the results of the voting, I'm interested in the fate of the city and country," he said. "United Russia is heading the country towards a political deadlock." It is premature to say if Russia has reached "a limit for revolutions," Mironov warned. The only condition to prevent another one is political competition, he noted. "I have a dream that the time of changes will soon come to Russia because the country is waiting for political changes."But Mironov's own problems were aggravated on the eve of the voting, when the faction of his own party split in St. Petersburg's parliament. The faction's new head, Vladimir Golman said a majority of its members did not support Mironov. According to Golman, the Federation Council's speaker is now under the influence of some politicians and the constructive criticism of the authorities has been replaced by "invectives." The split and the earlier resignation by Mironov as the party's chairman could mark a significant political shift, and Fair Russia's chances of entering the State Duma in December are not so evident now. Mironov's opponents in the assembly said Fair Russia was "an artificial and unsuccessful political project" rather than a real opposition party. Liberal Democratic Party's deputies condemned Fair Russia for constantly changing its position and even "betraying themselves."Deputy Vladimir Dmitriev from the Communist Party said Fair Russia was using "populist and pseudo-socialist rhetoric" to attract voters. Understanding its ineffectiveness, the authorities "have decided to shut down this project," Dmitriev said, referring to the current exodus of Fair Russia's members "towards United Russia." Meanwhile, the ruling party's faction in St. Petersburg has not decided yet whose candidacy will be nominated to replace Mironov. But Tyulpanov said that whoever is appointed, he or she would not necessarily become speaker of the Federation Council. Until the new speaker is elected, Mironov's current first deputy, Aleksandr Torshin, is expected to become acting chairman of the upper house. President Dmitry Medvedev, commenting on Mironov's possible recall earlier on Wednesday, said the situation reflected normal political competition between the two political parties. "There is nothing supernatural about any official's resignation," he said. United Russia has shown it is a force to be reckoned with, and Fair Russia is an opposition party, the president said. As the parliamentary elections draw closer, the parties will be able to demonstrate real politics, he noted. Mironov has several options now, according to Fair Russia's chairman Nikolay Levichev. He may focus on the forthcoming elections or return to the St. Petersburg legislative assembly, from which he was elevated to the Federation Council. But Mironov may also replace some deputy in the State Duma who may choose to leave the lower house, Levichev assumed. Mironov led Fair Russia's party list in the previous Duma elections. "We have not laid down arms," Levichev said. Pickets in support of Mironov were staged in 42 cities and "there will be more after the vote."
You can share this story on social media: