Russia's biggest social network accused of extremism propaganda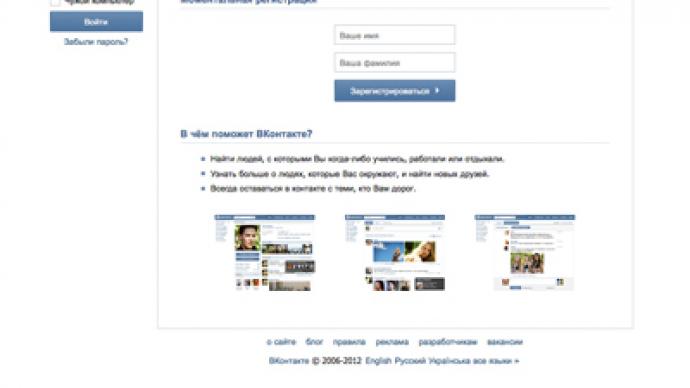 United Russia deputy Sergey Zheleznyak is demanding a probe into alleged extremist propaganda on one of the country's most popular social networks, VKontakte.
Zheleznyak, the State Duma vice Speaker, has sent a request to the Prosecutor General's Office and the Russian communications watchdog Roskomnadzor, writes Izvestia daily. Among videos uploaded by network users MPs discovered extremist material as well as speeches by terrorists – including Russia's most-wanted man Doku Umraov – and other North Caucasus militant leaders. In addition, the lawmakers say they found several hundred clips promoting ideas of Hizb ut-Tahrir – an international Sunni pan-Islamic political organization which is banned in Russia. Besides that, supporters of such organizations – via virtual groups – urge VKontakte users to raise money for opposition troops in Syria."All these videos must undergo an expert examination…and then measures must be taken," insists Liberal-Democratic Party deputy, Yaroslav Nilov. Another lawmaker, United Russia's Gadzhimet Safaraliyev, believes that it is necessary to punish the owners of networks where extremist materials are posted. "Speeches by such figures as Doku Umarov must not be openly available on the net, where half of users are children," he underlined. "That's a direct influence of extremist ideas on our youth."Meanwhile, VKontakte states that the parliamentarians could have simply contacted the network and say what materials must be removed. VKontakte – a Russian version of Facebook – is the top Russian-language social networking service which boasts over 140 million registered users. The web service has repeatedly been at the center of scandals over distribution of illegal content.According to Russia's Prosecutor General, the growing popularity of social networks "plays into the hands of extremists." In 2011, law enforcement agencies unmasked on-line groups that united several thousand members of an extremist organization banned by the court. Dozens of criminal cases were opened. Free distribution of banned content – including child pornography and racist material – has long been a headache for the government. In a move to tackle the problem, President Putin signed into law a website black list – obliging Russian internet providers to block websites with banned content.