New tool in corruption crusade: Officials to be seduced with bribes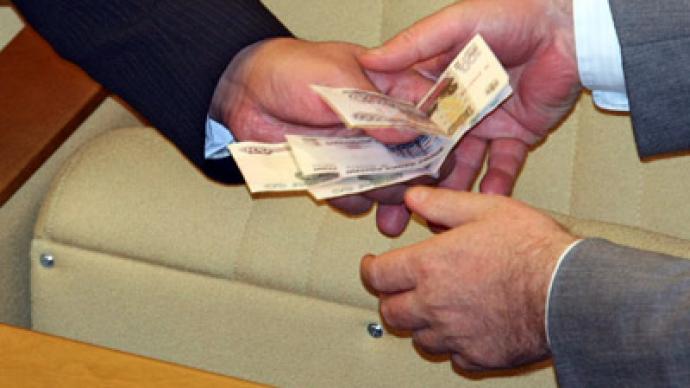 Russian MPs have come up with a new idea on how to tackle corruption and unmask sticky-fingered bureaucrats: undercover law enforcers will tempt civil servants into bribe-taking by offering them money.
Those who take the bait may be accused of corruption and fired.It is planned that a respective bill will be submitted to the State Duma in next few months, writes Izvestia daily. The author of the initiative, former Federal Security Service chief Nikolay Kovalyov – currently an MP for the majority United Russia party – says he borrowed the idea from abroad. In the early 1990s, Italy's "Mani Pulite" (Clean Hands) campaign against corruption helped to reveal over 1,500 bribe-takers among government officials and helped to change Italian attitudes towards corruption, Kovalyov pointed out. The US has used a similar practice in its fight against the scourge, the Russian lawmaker observed. In the late 1960s, an operation called "Sheikh and Bee" was launched. Under the scenario, State Department representatives pretending to be Arab sheikhs offered bribes to senior officials and congressmen for various dubious services. Officials who agreed to the deals were dismissed and sent to jail. In just two months, about 200 corrupt officials were unmasked, Kovalyov noted.Experts admit that in general, a similar scheme could work in Russia and the law on the matter can be passed. However, it is unlikely the practice could yield same results as it did in the US and Italy, notes the head of Russian National anti-corruption committee, Kirill Kabanov. Abroad, the proposed measures could be applied to high-level officials, but in Russia it could primarily be used with mid-ranking civil servants, "where bribe-taking is seen most often." Under the Russian law, top-rank officials are protected by inviolability during their time in office unless they are officially stripped of their immunity – a complicated procedure that requires approval by several instances and a request by Prosecutor General's Office.MP Andrey Lugovoi agrees that Russia needs tough measures to improve the situation with corruption and instigating civil servants to taking bribes could be one of them. He added that it is important to consider the human factor and ensure the initiative cannot be used as a way to settle old scores.Corruption is considered one of the biggest evils in Russia, spoiling the lives of ordinary citizens, complicating business operations and scaring away many potential investors. The latest major corruption scandal erupted last week, when investigators began a probe into a possible $100-million real estate fraud conducted by a commercial company controlled by the Russian Defense Ministry.No separate legislation exists in Russia to prohibit what is referred to as entrapment in some other countries.