An offer they can't refuse: Italy dissolves 'mafioso' city council
Published time: 10 Oct, 2012 10:12
Edited time: 10 Oct, 2012 14:12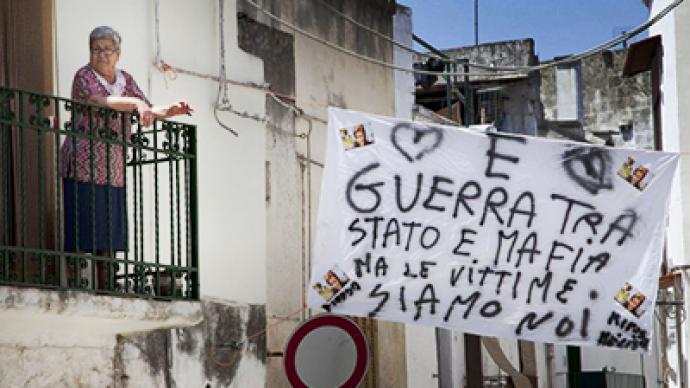 For the first time in its history, the Italian government dismissed an entire city council in the country's south to avert a "mafia contagion."
Italian Interior Minister Anna Maria Cancellieri said that the sacking of the 30 members of the council of Reggio Calabria was a "lamentable measure" needed to counter the influence of the 'Ndrangheta crime syndicate.
The move was a preventative measure against suspected mafia links, not a sign that organized crime had infiltrated the regional government, Cancellieri said.
"It is the first time in Italian history that the regional council of a provincial capital has been dissolved," she said during a press conference. Smaller governmental bodies in Italy have been sacked before for mafia affiliations.
The administration of Reggio Calabria will be handed over to three commissioners for the next 18 months. Their first task will be to avoid bankruptcy, as the province has a deficit of around 160 million euros.
­
Rotten to the core?
Suspicions that the infamous 'Ndrangheta was exerting its influence over the local government were aroused last year when a councilor was arrested for mafia links following an investigation. The group's influence has grown in southern Italy after they reportedly overtook the Sicilian Cosa Nostra mafia to become one of the world's biggest criminal organizations.
An Italian anti-mafia commission branded the group one of the most dangerous and richest criminal organizations in Italy, which has grown in size following the onset of the country's economic crisis.
Besides political institutions, local businesses are also falling prey to the criminal organizations.
"As the crisis gets worse more and more entrepreneurs are doing business with the Mafia. Some are forced into it while others want to get a piece of the millions of Euros the 'Ndrangheta turn over in drug trafficking profits," Lino Busa, president of anti-Mafria organization Sos Impresa said.
Italy, Europe's third-largest economy, is one of the countries hardest hit by the financial crisis and is currently wracked by a massive national debt. Prime Minister Mario Monti's technocrat government sought to combat the escalating crisis by introducing more austerity measures, a move that sparked public outcry and widespread protests across the country.