Up to 100 desperate miners barricade underground with explosives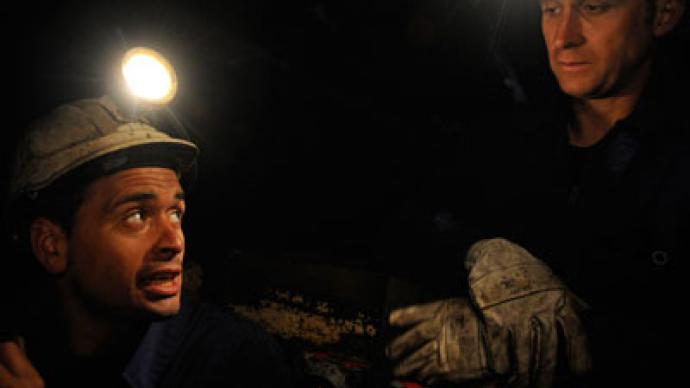 Sardinian miners armed with hundreds of pounds of explosives have barricaded themselves over 1300ft (400m) underground in Italy's only coalmine, presumably threatening to blow themselves up unless the government vows to protect their jobs.
Up to 100 desperate workers seized 771lbs (350 kg) of company explosives and locked themselves inside the Carbosulcis di Nuraxi Figus mine overnight on Monday.A load of coal has been dumped at the entrance of the mine, making access possible only by foot, according to Adnkronos International."We are worried that the mine may close. We are afraid for our jobs," Sandro Mereu, a miner who has worked at the pit for 28 years, told Reuters.Mereu said that he and other workers are prepared to stay at the mine indefinitely, until the government comes back with a positive response.The government is due to meet later this week to discuss whether the mine will stay open. Workers are nervous of the meeting's potential outcome, and are demanding a 200 million-euro investment in a carbon-capture project, which would store polluting emissions underground to reduce global warming.Protesters are also asking for a plan to produce electricity at the mine. Miners are hoping that a commitment to provide carbon capturing and electricity will result in stronger job security for workers.Carbosulcis di Nuraxi Figus was believed to have 600 million metric tons of coal reserves in 2006, but has struggled to remain productive. Sardinia was once one of Italy's most active mining areas, but the region has felt an economic pinch after companies boarded up shafts and moved elsewhere to extract valuable minerals.It is not the first time this particular mine has seen protests. The pit was occupied in 1984, 1993 and 1995, when workers stayed in a tunnel for 100 days.As workers at the Carbosulcis di Nuraxi Figus mine face the threat of unemployment, others in the region are experiencing similar worries. US aluminum giant Alcoa is threatening to close its Sardinian plant in Portovesme if it cannot find a buyer. The move would leave around 500 employees without work. But the fear of job cuts is a problem that spans the entire eurozone – not just Sardinia.Jobless rates across Europe have hit record highs, with more than 17 million people out of work in May. "Unemployment will continue to rise until we see an improvement in the economy, and that may not be until next year," chief economist at Saxobank, Steen Jakobsen, told Reuters.And with an 11 per cent unemployment rate and severe debt crisis impacting the whole eurozone, workers are prepared to do just about anything to protect their jobs. Last month, thousands of Spanish miners protested austerity measures in Madrid.It was in response to Spanish Prime Minister Mariano Rajoy's announcement of new taxes and spending cuts, designed to slash 65 billion euros from the budget deficit by 2014.The Spanish government argues that it currently pays disproportionately high subsidies to the mining industry, which it claims is a small and unprofitable part of the economy.As Madrid struggles to keep afloat against an unforgiving economic backdrop, the figures are anything but promising. Spain is in its second recession in three years with near 25 per cent unemployment. According to the National Statistics Institute, Spain's economy did worse in 2011 and 2010 than previously expected, adding to the country's ongoing economic gloom.And as eurozone governments continue to trim their budgets to beat the debt crisis, the working class continues to be the hardest hit.