Russian whistleblower's complaint against Central Election Commission turned down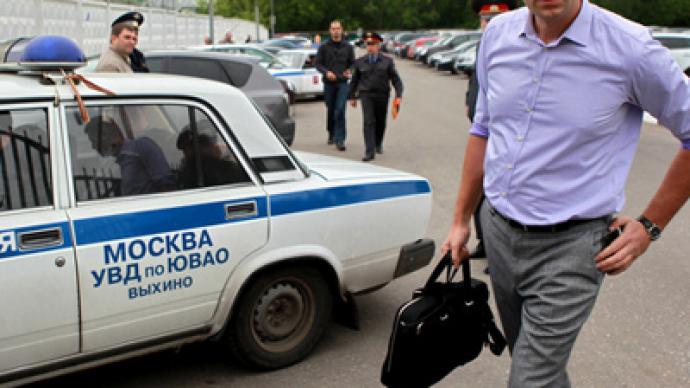 The federal Anti-monopoly Service has declined a complaint by anti-corruption campaigner and influential blogger Aleksey Navalny in which he accuses the Central Election Commission of financial fraud.
On May 25, Navalny published on his website, Rospil, the details of a state commission for the purchase of equipment for electronic voting machines. The blogger claimed that the cost of the contract (470.7 million rubles or about 16.8 million dollars) was significantly inflated. Immediately following the publication, the Central Election Commission suspended the order for designing and buying the equipment."If the complaint is satisfied, we'll organize a new tender," CEC chairman Vladimir Churov said on Friday. However, it is now clear that it won't be necessary. "The claim is groundless," Mikhail Yevraev, head of the department for the control over state commissions of the Federal Anti-monopoly Service, said on Monday. Earlier, Vladimir Churov said that Russian equipment for electronic voting is considerably cheaper than in other countries. One such machine costs about 2,000 dollars while the price of its Western equivalent is normally more than 3,000 dollars. Under a presidential order, at least 5 per cent of Russia's polling stations should be equipped with machines for electronic voting for the forthcoming parliamentary election in December this year and also the presidential election in 2012. On the Rospil website, Aleksey Navalny publishes copies of documents exposing alleged instances of corruption involving government officials. It was launched in January this year. Earlier, he posted such information in his LiveJournal blog, which currently numbers almost 50,000 subscribers. He continues submitting daily entries to his blog in which he comments on political events, important statements or information regarding  his most recent activities. While at the Rospil website, he and his team not only released documents substantiating cases of alleged fraud, but also followed up on the investigations as well as the authorities reactions to them. The blogger himself is now facing charges of inflicting serious material damage to a state-owned enterprise in the Kirov region where he used to work as a volunteer assistant to the local governor. According to the Investigation Committee, Navalny committed a number of illegal actions as a result of which the regional state-owned enterprise Kirovles sustained damages numbering 1.3 million rubles (about 44,000 dollars).Navalny has called the allegation far-fetched and said they are politically motivated and linked to his anti-corruption activities. If found guilty, he could face up to five years in prison.
You can share this story on social media: