Communists to seek government dismissal, offer own 'salvation' plan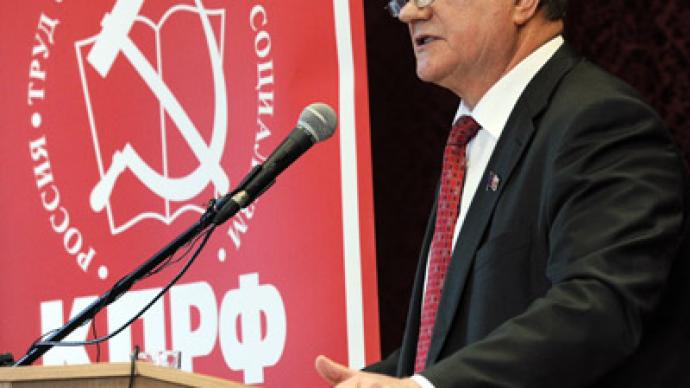 Russian Leftist leaders have voted to initiate the dismissal of the government and approved a program of 'national salvation', which includes the nationalization of all sectors of the economy and the 'return' of companies owned by foreign investors.
Both moves were taken at the all-Russian congress of representatives of workers' collectives – the organization close to trade unions but with much stronger ties to the Communist Party of the Russian Federation (KPRF). The party, that has parliamentary representation, fully supported the move and the final statement was signed by KPRF chief Gennadiy Zyuganov. According to the document, the communists plan to officially withdraw their support of Dmitry Medvedev's government and suggest President Vladimir Putin form a coalition government based on all political parties represented in the parliament. The Communists also voted for the Russian authorities to radically change the economic course in order to, in their words, save the national science, industry and agriculture which, according to the leftists, are in constant decline and under threat of disappearing. The plan also included a further boost in the social services.Nationalization from foreign investorsTo achieve this, the anti-crisis program suggests a large-scale nationalization, bringing under the state control both the companies that had been acquired by foreign investors and also all major enterprises in the basic sectors of the economy. Taxes and tariffs to hurt the rich and oilmenAnother step is a radical tax reform, scrapping VAT for companies engaged in industry and agriculture and introducing a progressive income tax scale for the population. Communists suggest control of domestic prices on oil and oil products and to raise export duties. They also advocate the freezing of energy tariffs and state sponsoring for the companies that cannot survive under such conditions. To protect Russian industry, the program suggests re-introducing tariff protection on Russian goods that is being reduced after Russia's WTO entry. Finance sphere – no easy escape after government buyoutTo curb the capital flight, the communist party analysts suggest scrapping the reserve system in banking and instead to set up a large number of state-owned banks in all sectors of industry. Besides, the program includes limitations on foreign currency turnover and direct control on cross-border currency transfers. Another step is to legally cut managers' and employees' salaries and bonuses in banks that receive government aid until it has been repaid. Science and education – return to Soviet-time prosperityTo protect science, the communists suggested tripling state spending on research projects and to raise the salaries in the sector "to the European Union level". They also want the Unified State Exam system scrapped and the education reform reversed to bring back the increased state participation and funding in educational projects.The Communist Party of the Russian Federation currently holds 92 seats in the Lower House, or just over 19 percent, which means that without other factions' support, the 'national salvation program' will remain wishful thinking.