Communist leader censured by comrades over ties with oligarchs and clergy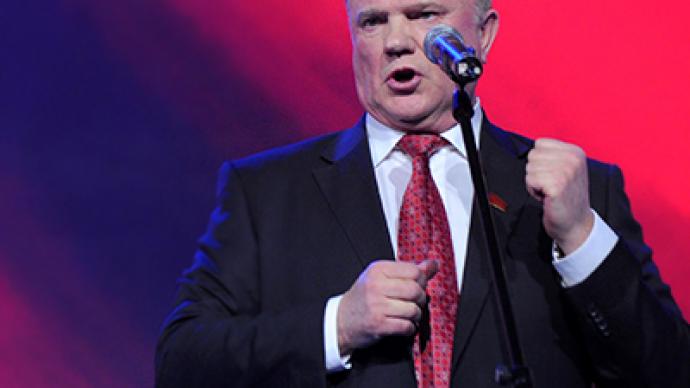 A group of former Communist Party members have blasted their ex-leader Gennady Zyuganov for failing to lead the recent wave of street protests and for 'opportunistic' ties with capitalists and the church.
The official rebuke was signed by a group of former MPs, including a 91-year old former member of the Central Committee of CPSU, Yegor Ligachev. The letter said that the protest rallies that took place after the last parliamentary and presidential elections gave the leftists an opportunity to increase their popularity but this opportunity was shamefully missed. The group behind the letter blamed the Communist Party leadership and its head Gennady Zyuganovfor this, saying current party policy lacks resolution and often resorts to opportunism and the approval of the Russian authorities, who the die-hard communists referred to as the "bourgeois regime". Zyuganov's critics claim he betrayed the core communist ideology, replacing materialism with idealism and religious dogmas, and the proletariat's internationalism with bourgeois nationalism. The letter also blasted the Communist Party for giving parliamentary seats won in the elections to representatives of oligarchic capital and party bureaucrats, instead of giving a chance to workers, peasants and union leaders. The letter then says the blunders led to a fall of the number of Communist Party members from 540,000 in 1993 to 156,000 today. The authors then suggest holding a new congress of the same Communist Party members who founded the KPRF in 1993 and develop a completely new concept of party development. KPRF officials dismissed the accusations and compared the critics with the followers of Leon Trotsky. They said the wave of protests against the alleged elections violations was started by the communists who constantly uncovered these violations and demanded justice. However, KPRF cannot formally head the opposition as it still includes a lot of staunch anti-communists, they added. As for the accusations of ties with oligarchs, KPRF claims that though there are certain "wealthy pensioners" among Communist MPs, they by no means act on the orders of capitalists and therefore should be recognized as true communists. The KPRF went on to claim that the letter was a trick by their enemies aimed at weakening the party in view of the universal elections day on October 14 – the day when municipal and gubernatorial elections will be held in all 17 Russian regions. "Before every poll people appear who discredit our candidates, and I do not think that they do it for free," KPRF's top official Sergey Obukhov said in a press interview. Another top communist, Vladimir Nikitin, claimed that critics think in categories of the 19th and 20th centuries. "The epoch of Pisces is over and the epoch of Aquarius has started and this means that a global shift of ideology is near," Nikitin said.
You can share this story on social media: