Russian Communist Party announces 'protest revolution'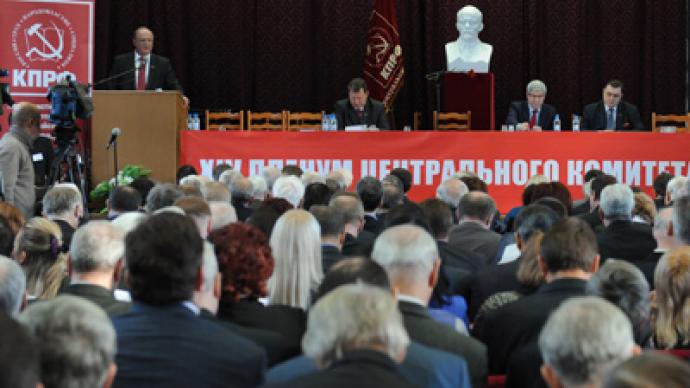 The Russian Communist Party (KPRF) has announced its intent to lead a nationwide protest movement, urging "proletarians and patriots" to unite.
The KPRF has refused to join with other opposition parties, particularly the recently created Opposition Coordination Council. The Opposition's Coordination Council was elected through online voting earlier in October, and is headed by an anti-corruption blogger Aleksey Navalny. Other representatives of the 45-member council include figures like popular writer Dmitry Bykov, environmental activist Yevgeniya Chirikova and Left Front leader Sergey Udaltsov, who was charged last week with conspiracy to organize mass riots."If the [Coordination Council] continue to pursue an unnatural liberal course for our country, they won't be able to deceive our citizens again. They are not an opposition," KPRF leader Gennady Zyuganov told journalists.
A 'tortoise's reaction'The KPRF is confident that as tensions grow "between labor and capital," various political forces are exploiting mass protest to their own ends. The Communist Party believes these forces are "clearly provocative," and foreign-sponsored. Zyuganov, commenting on what he saw as the shortcomings of Russia's protest movement, said that the cause did not gain momentum because of the opposition's lack of participants. The number of participants in a recent 'March of Millions' was far from one million, he said."That is what allowed the government to launch an administrative political and counter-attack," Zyuganov explained. "Legal screws are being tightened. The rules for holding mass events are getting tougher. [The] information gag is being pushed deeper into opposition's throat." The Communist Party said that the creation of a revolutionary class is one of his party's primary tasks. Workers – specifically "proletarians and patriots" – should play a leading role in catapulting these protests onto a national scale. However, senior member of the ruling United Russia Party Andrey Isayev dismissed the KPRF's announcement as the "reaction of a tortoise." In 2011, the Communist Party allowed "radical liberals" to head the protest movement, and their attempt to make up for lost time looks "pretty pathetic," Isayev said in a comment published on United Russia's website. The KPRF have supporters who traditionally vote for their party and participate in their events, but the organization will ultimately fail to lead the protest movement, he said.The KPRF is one of the four political parties of Russia's lower parliament. It came second after United Russia in the December 2011 elections, which were followed by a series of mass protests across Russia against alleged electoral fraud.
You can share this story on social media: