Communists at odds with United Russia over Olympic results
Published time: 13 Aug, 2012 12:18
Edited time: 13 Aug, 2012 18:09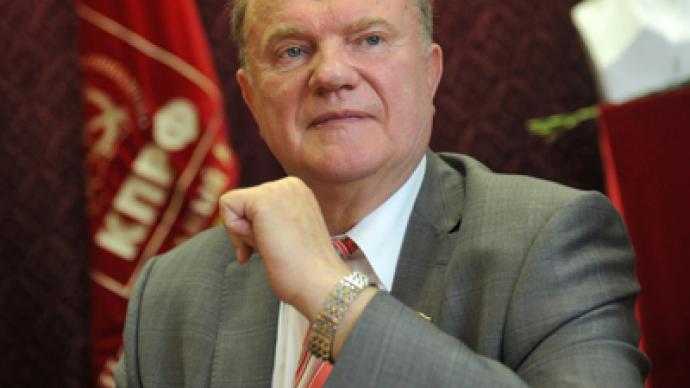 While PM Dmitry Medvedev praises Russia's performance at the London Olympics, Communist leader Gennady Zyuganov recalls the USSR's success at the Games and demands "blame-storming" on Russia's failure to repeat it.
Now that the XXX Olympics have officially come to an end and the countdown to the 2016 Games in Rio de Janeiro has begun, Russian athletes are heading back home with 82 medals in the bag. On Wednesday, President Vladimir Putin will receive the medalists at the Kremlin, where they will receive government awards for their high achievements.
Team Russia came fourth in the overall medal count at the London Games with 24 gold, 25 silver and 33 bronze medals, third place in terms of number of medals won.
"I'll express my opinion. The Russian team performed quite successfully," Medvedev, who also leads the ruling United Russia party, wrote on his Facebook page. The PM noted that China – which came second – won 87 medals, which is "very close."
He conceded that Russia had won fewer gold medals than the US (46), China (38) and Britain (29). "But let me remind you that we won 73 medals, including 23 gold, during the Beijing Olympics in 2008," he said, noting overall progress.
"The emotions our sportsmen and women gave to us are a lot more important [than results]," the premier underlined, thanking the Russian athletes.
Meanwhile, Russian Communist party (KPRF) head Gennady Zyuganov is dissatisfied with the results of the Olympics.
"In due time, the USSR won seven Olympics and came second [in the medal count] in two Games. They say fourth place is successful. But for our country, which used to earn top scores, fourth place cannot be considered a success," he said in a statement published on the KPRF website.
The politician admitted that Team Russia showed excellent results in athletics, including the race walk.
"There was a splendid performance in rhythmic gymnastics and synchronized swimming – that's our 'nuclear weapon'," Zyuganov observed.
Unfortunately, he noted, the country could have done better at team sports such as water polo and basketball.
The veteran politician insists that it is necessary to analyze the situation and bring order to what he referred to as the "sports Bermuda triangle" – the Minister of Sport, Sports Federation and Russian Olympic Committee – where no one is responsible for final result.
Zyuganov cited the Chinese experience as an example.
"This country used to be among champions. But they copied the Soviet system for athletes' training – created sport schools for children and young people. And today they have achieved such good results in sports," he pointed out.
Concluding his statement, the KPRF leader observed that many Russians simply cannot afford to participate in sport as not a single gym is available free of charge.
"And the current power – the government and Putin – are to be blamed for that," Zyuganov added.