Communists blast media for ignoring opposition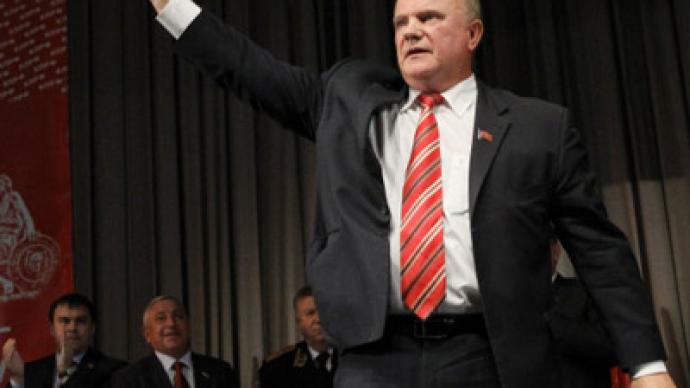 The Russian Communist party has slammed state TV channels for paying too much attention to the ruling United Russia faction and not giving enough airtime to opposition parties, which, they say, is against the law.
The Communist Party (KPRF) sent letters to the chiefs of three Russian state channels –Channel One, NTV, and Rossiya. The party demands the same airtime as President Dmitry Medvedev – head of the United Russia election list – and as the leader of the majority party, Prime Minister Vladimir Putin. The Communists complain that even when it comes to covering events that involve all the factions represented in the State Duma, the ruling party gets more coverage than others.So far, the KPRF has not received any response from the channels, First Deputy Chairman of the Communist Party's Central Committee and Deputy Speaker of the State Duma Ivan Melnikov said. On Monday, the leaders of the party gave a media conference in Moscow. With slightly more than a month remaining before the December 4 State Duma elections, political passions are heating up.The Communists claim that they are facing increased pressure from authorities during the pre-election campaign. In addition, they say that "false" newspapers which the party has no relation to, were issued in the name of the KPRF in some Russian regions. However, the KPRF is confident that it enjoys almost the same level of support among the population as United Russia. In some regions, the Communists say they are even more popular than the Putin-led faction. It is a "medical fact" that United Russia cannot get even a "simple majority" in the lower house elections, Melnikov says.One out of ten KPRF supporters is a voter who would rather have voted against all candidates, says the Secretary of the KPRF's Central Committee Sergey Obukhov. He was commenting on a journalist's question as to how the so-called protest vote would affect the election results. The option to vote "against all" was removed from ballots in 2006, and now voters can only show their protest against all candidates by ignoring the elections. Earlier, as an alternative to the protest vote, some representatives of the Russian opposition urged voters to come to polling stations simply to spoil their ballots. The Communists say they are against such an approach, since that "would be a big gift for United Russia", since in case of victory it would get all the votes from spoiled ballots, explained KPRF member Andrey Klychkov. Ivan Melnikov stressed that the higher the turnout is, the less chances for falsification of results there would be.