Investigative Committee orders media monitoring to hear criticism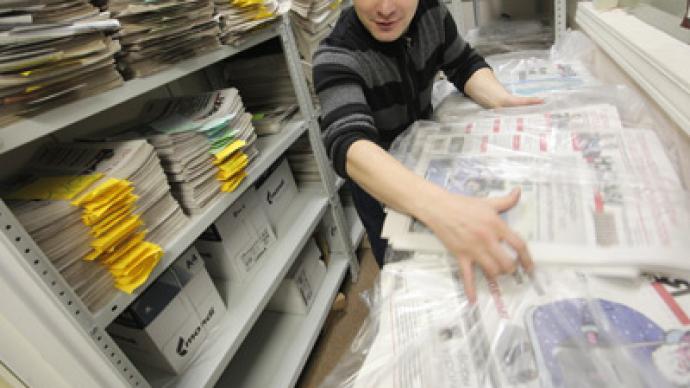 Russia's top law enforcement agency has announced who has won the tender to monitor media coverage of its work.
The contract worth 1.1 million roubles ($35,000) was awarded to the Intergrum Company in a one horse race. There were no other bidders, according to a report in the business daily Vedomosti. The task is described as the "complex services on processing the mass media materials". The monitoring will show what is attracting public attention on such issues as child abuse. It will also show the criticism levelled towards the Investigative Committee and law enforcement in general. The law enforcement body also wants statistics reports that compare its public image with those of other government agencies. A source in the Committee told the newspaper that media monitoring would allow the heads of the agency to evaluate its work and to obtain information that is not accessible by other means – like the blunders of agents that they are not likely to report or some minor incidents that citizens are not usually reporting but about which they are writing in social networks. In June 2012 the Investigative Committee and its head, Aleksandr Bastrykin, got involved in one of the biggest media scandals in years. The editor in chief of the popular daily Novaya Gazeta, Dmitry Muratov, accused Bastrykin of driving one of his journalists to a remote forest location and threatening to personally kill him over an article that accused the "Russian FBI" of covering up a case of mass murder. Bastrykin immediately dismissed the whole story as "stupid things and insinuations of dishonest journalists," but agreed to meet Muratov in the presence of other chief editors of Russian mass media in order to discuss the issue. After the meeting the agency head and the editor-in-chief shook hands calling it quits, prompting another wave of criticism from the press as journalists said that such cases should only be settled in court. The Investigative Committee of the Russian Federation was founded in January 2011 for investigating important and resonant cases, much like the Federal Bureau of Investigation in the United States. The agency uncovered and forwarded to courts many important crimes, such as murders, crimes against children and especially high-profile corruption. In November last year the probe launched by the Investigative Committee led to the dismissal of the Russian Defense Minister Anatoly Serdyukov, whose former subordinates are suspected of running a multi-milliongraft scheme. The Investigative Committee is also dealing with cases that involves political extremists, such as the case started into mass riots that took place during a political street rally in Moscow last May.According to the Investigative Committee press service, in 2012 the agency registered 314 crimes on the basis of media reports. Sometimes the reports themselves become the body of crime, such as the cases of insults and slander by means of mass media and social networks.
You can share this story on social media: