Russian Church denies claims it held own Pussy Riot trial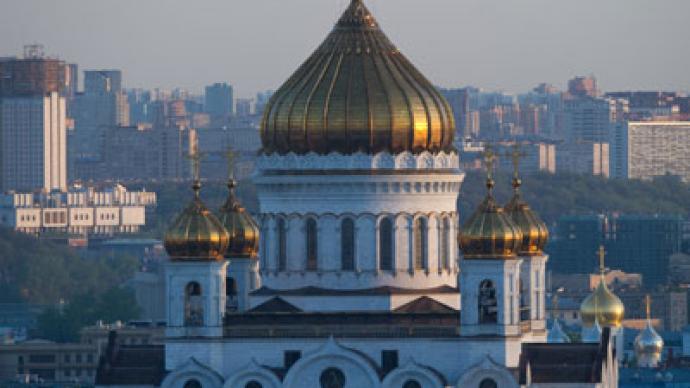 The Russian Orthodox Church has dismissed claims that a special church court passed its own verdict on the Pussy Riot scandal, which supposedly influenced the decision made by the secular justice.
Deacon Sergiy Baranov announced in a letter that he was abdicating the priesthoodin protest against "the disgraceful events of the last few months" and particularly the "unlawful sentence to the members of the Pussy Riot band that was passed with direct influence of the leader of the Russian Orthodox Church and the people who, by some strange accident, call themselves 'orthodox citizens.'"
The deputy head of the Moscow Patriarchate's Archimandrite countered that the letter was a "delirium," and that the alleged Church trial of the Pussy Riot scandal never took place. The cleric described Baranov's decision to renounce his priesthood as "sad."
The August 20 letter sent by Sergiy Baranov to Patriarch Kirill did not mention a specific Church trial, but rather compared the secular court of Moscow to the medieval Inquisition for basing its verdict on decisions made during the 4th century A.D. by religious assemblies and the modern internal rules of proper behavior in the temple.
A district court in Moscow sentenced the three women of Pussy Riot on Friday to two years in a penal colony, after finding them guilty of hooliganism motivated by religious hatred. The charges came over the women's staging of a 'punk prayer' called 'Virgin Mary, banish Putin' in Moscow's Christ the Savior Cathedral, which was uploaded to YouTube.
After the sentence was announced, the Supreme Council of the Russian Orthodox Church issued a statement calling for secular authorities to show mercy to the women: "Without doubting the legality of the court verdict we address the state authorities with a request to show mercy for the convicts within the framework of the law and hoping that they will give up the blasphemous actions in future."
The women's defense team said they were not going to plea for clemency, and will appeal the sentence and press for a full acquittal.