Moscow court issues arrest warrant for Magnitsky's boss Browder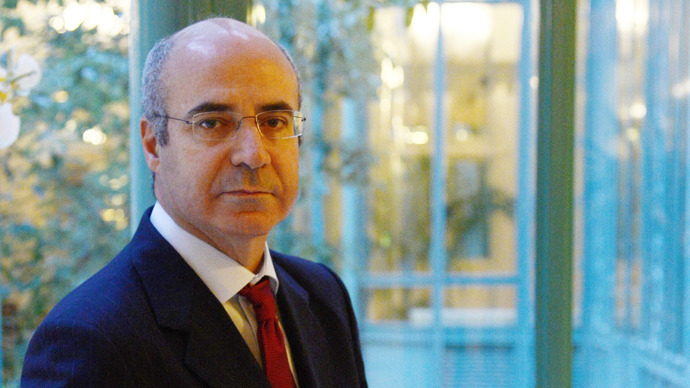 A Moscow court has authorized the arrest of William Browder, the head of the UK-based Hermitage Capital fund, in absentia, after he "refused to cooperate" with the investigation. Sergey Mangtisky's former boss is set to appeal the warrant.
The decision by Tverskoy Court comes on Monday after the Hermitage boss was put on an international wanted list, as ordered by the Russian Interior Ministry on April 17.
Investigators suspect that Browder, a US-born businessman with British citizenship, masterminded a stock buying scheme that cost the Russian budget at least 3 billion rubles (over $100 million). His company allegedly used several Russian firms registered in tax havens to purchase shares of the natural gas monopoly Gazprom destined for foreign investors. Browder never received permission from the Russian Federal Commission for Securities for such operations, which was required at the time, the investigation says.
Hermitage Capital representatives however insist that Browder's company never hid the fact that they purchased the shares and went through several inspections by the Prosecutors Office and tax officials, without being told to cease transactions. Gazprom also never filed a complaint on the nature of the company though it was aware of it, Browder's lawyer said earlier.
The Russian Interior Ministry on Monday dismissed these comments and warned that any further statements of the kind would be "interpreted as an attempt to pressure investigators."
"Representatives of the affiliate of Hermitage Capital are not a competent body to interpret the norms of Russian laws, and are not entitled to assess the actions of official bodies of power who are conducting an objective investigation," the ministry added in a statement.
Hermitage Capital replied that they "have no intention of being muzzled by a group of corrupt police officers who are trying to cover up the grave crimes of torture, extra-judicial killing and massive thefts."
Browder is already on trial in absentia on embezzlement charges alongside his late employee, auditor and whistleblower Sergey Magnitsky. His company maintains they paid 5.4 billion rubles ($180 million) in taxes, but the money was stolen by corporate raiders with the help of law enforcement officials.
Magnitsky's death in pre-trial custody in 2009 sparked a major international scandal, leading to a substantial cooling down between Moscow and London, as well as -for-tat measures between Russia and the US.
As a UK citizen, Browder is unlikely to ever be arrested, as Britain has repeatedly rejected extradition requests from Moscow for businessmen in the past. 
Washington for its part, recently published the names of 18 Russian officials on the so-called "Magnitsky List". The group, deemed by the US as complicit in human rights abuses, faces visa and financial sanctions; 16 of them are accused of involvement in Magnitsky's death. Russia responded with a corresponding "Guantanamo List".

You can share this story on social media: