"Bonner shared all the hardships that fell on Sakharov"
Published time: 20 Jun, 2011 06:47
Edited time: 20 Jun, 2011 18:48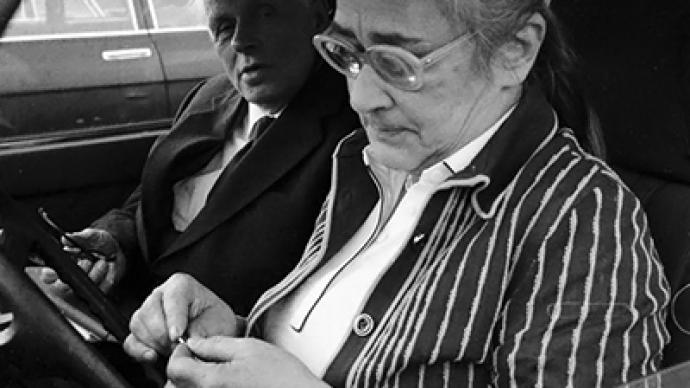 Russian activists say the death of Yelena Bonner, a Soviet era dissident and the wife of Andrey Sakharov, is a great blow to the human rights movement.
­Bonner, a human rights activist and the widow of Andrey Sakharov, a nuclear scientist and Nobel Peace Prize winner, died on Saturday after a grave illness in Boston, US, at the age of 88. Her relatives said she would be buried in Moscow.
President Dmitry Medvedev on Monday has offered his condolences to Bonner's relatives. He spoke about her during a meeting with Russian Human Rights Ombudsman Vladimir Lukin.

"Yelena Georgiyevna [Bonner] is an outstanding public figure," Lukin said. He added that she made a significant contribution into Russia's public life in the past few decades.

In the early 1980s, Bonner and Sakharov lived in city of Gorky (now Nizhny Novgorod) where they were sent for pushing "anti-Soviet propaganda." They were freed in 1986, when Perestroika, initiated by USSR President Mikhail Gorbachev, began.

"We suffered very much seeing that people around us were being arrested, some of them just for being close to us," Bonner once said. Sakharov, the creator of the Soviet Union's hydrogen bomb, opposed the arms race and promoted the convergence of socialism and capitalism. He also called for greater freedoms in the Soviet Union and condemned the country's leadership for sending troops to Afghanistan. He was awarded the Nobel Peace Prize in 1975 for his human rights activity.

Bonner shared all the hardships "that fell on Sakharov," Gorbachev said in a telegram to her relatives. Their union will remain as an example of "big love and faithfulness to common ideals," he noted. According to him, Bonner wanted to see Russia as a free, democratic and prospering country.

Gorbachev said he always respected Bonner and highly appreciated her. "We argued often, but I felt her support, and mutual understanding between us grew with years." He added that he has taken her death as a personal loss.

Both Bonner and Sakharov fought for human rights throughout their lives so that the Soviet Union would become another country, Aleksandr Brod, director of the Moscow Human Rights Bureau, said. They defended freedom of speech and wanted the iron curtain to disappear, he added.

The new generation of human rights activists should use Bonner's experience in somewhat different form – "to defend ideas not only with criticism, but also through co-operation with authorities," Brod told Itar-Tass.

Journalist and a member of the Public Chamber Nikolay Svanidze said Bonner was not just Sakharov's wife – "she was his muse." She had great influence on him as a human rights activist. As the Soviet regime put pressure on her, Sakharov acted, "above all, as a defender of her ideas and then as a human rights activist for all Soviet people," the journalist noted.

Bonner was an active participant of human rights movement and invaluable assistant for Sakharov, believes Lyudmila Alekseeva, head of the Moscow Helsinki group. Bonner was among the first members of the group.

Sakharov and Bonner took all the decisions together, said Lev Ponomarev, head of the For Human Rights movement, who knew both of them. After Sakharov's death, Bonner remained an active participant of the human rights movement. She moved to the US, but continued to follow events in Russia. Russia is now losing human rights activists and dissidents who started a dangerous activity in the Soviet times, Ponomarev noted. "They really risked their lives and health."

Ombudsman Vladimir Lukin recalled that Bonner was a WWII veteran who defended peoples' right to life. "And then she defended our right to human dignity. She was a firm, resolute woman and sometimes she made tough statements." Such people as Bonner enabled the transfer from the old epoch to a new one, and she played an important role, he said.