Soviet dissident and Nobel Prize winner Sakharov remembered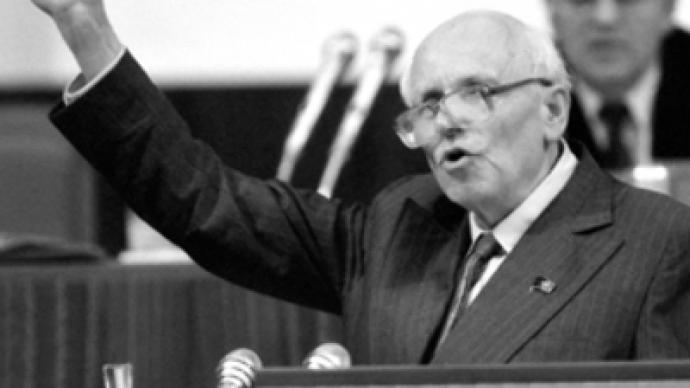 Andrei Sakharov -- one of the fathers of the Soviet hydrogen bomb, as well as a dissident, human rights activist and Nobel Peace Prize winner -- is commemorated across Russia on the 20th anniversary of his death.
Timed to coincide with the date, a two-day international conference, "Andrei Sakharov's Ideas Today," has started in Moscow. In a telegram that President Dmitry Medvedev sent to greet the participants, he paid tribute to "the world-famous scientist and human rights activist," saying his ideas are at the forefront of political activism in Russia.
"He understood well that freedom and responsibility are inseparable," he said.
"Academic Sakharov believed that dissociation is a huge threat to humanity," Medvedev's letter reads, according to the Kremlin's website. "He kept proving repeatedly: only cooperation on the basis of equal rights, openness and respect for the individual will let us be safe and develop our civilization. Today, analyzing the experience of contemporary history, we can evaluate in full the depth and actuality of Andrei Sakharov's ideas."
The conference was organized under the support of the Commissioner for Human Rights, Thomas Hammarberg.
"The example and thoughts of Andrei Sakharov remain acutely relevant," Hammarberg said, according to his official website. "Sakharov presented a universal vision for a peaceful and progressive society based on human rights standards."
Sakharov remembered "on certain dates only"
However, the academic's widow, Elena Bonner, says today Sakharov's ideas "are forgotten."
"Idea is an ideal which is then followed by words and then an action," the 86-year-old widow said in an interview with the Svoboda (Liberty) radio station. "So, a line should be drawn under the word 'words.' No action – the way Sakharov would do it – has been taken throughout all these years. He is mainly remembered on certain dates."
Indeed, life goes on, and a third and even fourth generations have come after Sakharov: the academic's four great grandchildren are growing.
However, Bonner added, "at least basic ideas should be fulfilled…. But it is not happening. And that is terribly bad." When asked about what those ideas were, the lady referred to Sakharov's Nobel Peace lecture, which began with the words:
"Peace, progress, human rights – these three goals are inextricably linked to one another: it is impossible to achieve one of these goals if the other two are ignored."
Sakharov's devoted partner in life, Bonner keeps working on his legacy after his death. She publishes books and her husband's memoirs, and is trying to promote his ideas and make people remember the outstanding scientist and civic rights advocate.
"It's a pity his diaries haven't been translated; they were published in Russia in 2006," she said, speaking at the Freedom Forum in Oslo in May. "Apparently, the West isn't interested now in Sakharov."
"I tried to live up to my destiny"
First, a committed Stalinist and then a severe critic of the Communist regime, "the father of the H-bomb" who turned against nuclear proliferation and protested against the atmospheric testing of the hydrogen bomb – Sakharov's life was full of paradoxes.
"My destiny was exceptional. Not because of false modesty, but because of a wish to be accurate. I note that my destiny has turned out to be larger than my personality. I've simply tried to live up to my destiny," the academic once wrote, according to the website of Sakharov Center.
"I am convinced that international confidence, mutual understanding, disarmament, and international security are inconceivable without an open society with freedom of information, freedom of conscience, the right to publish, and the right to travel and choose the country in which one wishes to live."
From Nobel lecture "Peace, Progress, Human Rights," by Andrei Sakharov, 1975
He was one of the first human rights advocates in the Soviet Union and in 1975 he was awarded the Nobel Peace Prize. However, he was not allowed to leave the country, so his wife Elena Bonner, who also was an active fighter for human rights, came to Norway to collect the prize and deliver Sakharov's Nobel speech on behalf of her husband.
On December 24, 1979, Soviet troops invaded Afghanistan. On January 3, The New York Times published an interview with Sakharov in which he called for the withdrawal of Soviet armed forces from the Islamic state. That apparently became the last straw for the Soviet leadership and next month Sahkarov was stripped of his official honors, arrested and together with his wife expelled to a small industrial town, Gorky. There they lived in exile until 1986, when Mikhail Gorbachev allowed the couple return to Moscow.
The next three years of his life were very active. He died at home in his study on December 14, 1989, preparing for the following day. It's believed his last words were: "Tomorrow is yet another fight."
You can share this story on social media: