Tymoshenko blasts forthcoming Ukrainian poll as illegitimate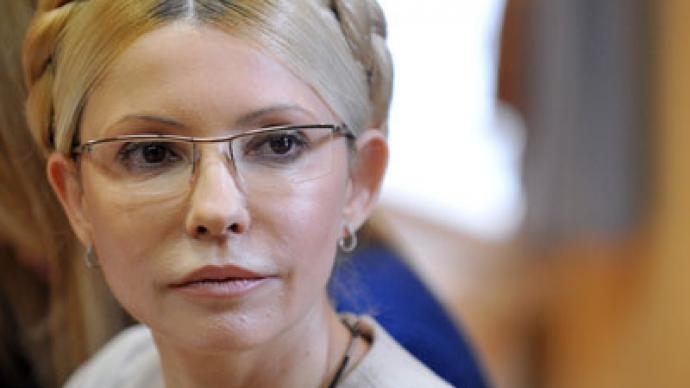 Former Ukrainian PM Yulia Tymoshenko who is currently serving a jail sentence for abuse of office has addressed European politicians with a call to recognize the Ukrainian parliamentary poll as illegitimate before it even takes place.
The address was read in the European Parliament by Tymoshenko's daughter Yevgenia, who also held meetings with leaders of the European People's Party – a coalition of European center-right parties who have long been allies with Tymoshenko's Batkivshchyna (Fatherland) party."The main message is to make a statement right now that these elections are illegitimate. After the elections are over it will be too late," Yevgenia Tymoshenko said. "The dictatorship in Ukraine has practically been built. The elections will help to strengthen it," she added. These words echoed last month's statement by Wilfried Martens, president of the European People's Party, who said that Yulia Tymoshenko's arrest was a shift by President Viktor Yanukovich's administration towards "Soviet-style authoritarianism."Tymoshenko's sentence also stalled the signing of an Association Agreement between Ukraine and the European Union, and many European officials boycotted June's Euro 2012 football championship in Ukraine as a sign of solidarity with the jailed politician.President Yanukovich earlier rejected the charges of political pressure, saying an appeal to Europe's human rights court would only confirm the legality of Tymoshenko's conviction. He also stated that it was Europe that applied pressure on Ukraine, as it used all means to influence the court decision in the case. "Political pressure is being applied to Ukraine," Yanukovych said in a press interview. "I want people to look at the Tymoshenko problem from a legal perspective," he added.In late august Ukraine's top court authority turned down the last attempt by Tymoshenko's defense top contest the sentence to the former PM and ordered that the politician serve her seven-year term in jail. Nevertheless, Tymoshenko was officially made the head of the joint Ukrainian opposition – an alliance formed on the basis of Batkivshchyna party that opposes the ruling Party of Regions – the left-centrist movement that supports the current Ukrainian President Viktor Yanukovich. Tymoshenko was arrested and jailed last October for abusing the powers of her office, most notably in the 2009 gas import deal she signed with Russia. Tymoshenko was also ordered to pay US$190 million in fines. She dismisses all charges as pressure from her political opponents. The parliamentary, Verkhovna Rada, elections in Ukraine are scheduled for October 28.