Western democracy 'unacceptable' for Belarus - Lukashenko
Published time: 12 Nov, 2012 14:47
Edited time: 13 Nov, 2012 12:05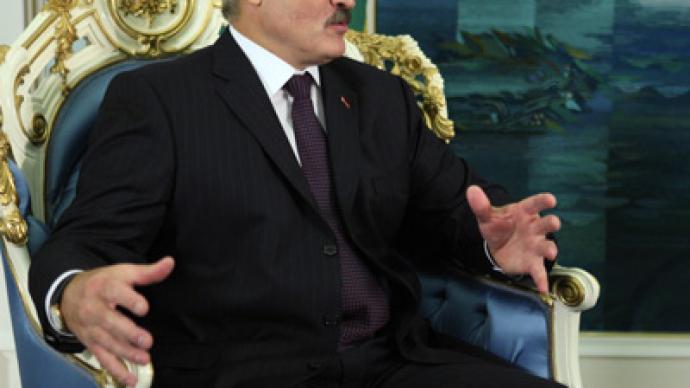 Democratic principles adopted in the West, including those that attempt to control elections, are not right for Belarus, the nation's President Aleksander Lukashenko said Monday.
Advising his nation to "calm down over [Western] democracy," Lukashenko implored the students and faculty of the Belarusian State Economic University to consider what is happening in Spain, Italy, France and Greece, European countries where protesters are taking to the streets over harsh austerity measures.
The Belarusian leader, who has been labeled 'Europe's last dictator', ridiculed the West for its misplaced criticism.
"You [the West] are reproaching me for dictatorial ways," he railed. "But every day you douse your people with water (cannons) and teargas them."
No one is talking about how many people have been injured, he added.
Lukashenko then rattled off a list of recent Western activities to support his argument.
The West "killed millions of people in Afghanistan and leveled Iraq when it needed oil," he argued. Then there was former French President Nicolas Sarkozy, "a great democrat," who borrowed US$150 million from Libya's Colonel Gaddafi, only to bomb him three years later.
"Special forces raped and killed him [Gaddafi]," he alleged.
Is that democracy, he asked?
The Belarus leader then invited his audience to "travel to America" to see how elections are held there.
"In my opinion, 50 million people were unable to vote simply because they were not on voters' lists," Lukashenko said. "There were 23 or 25 candidates [for the US Presidency], but you only heard about Obama and Romney, and the other 25 were jailed for attempting to engage in discussion with those 'whales.'"
Lukashenko rejected the idea of having Western leaders lecture Minsk on democracy.
"No, thank you, we will hold our elections ourselves," he concluded.