Belarus: silent crackdown on silent protests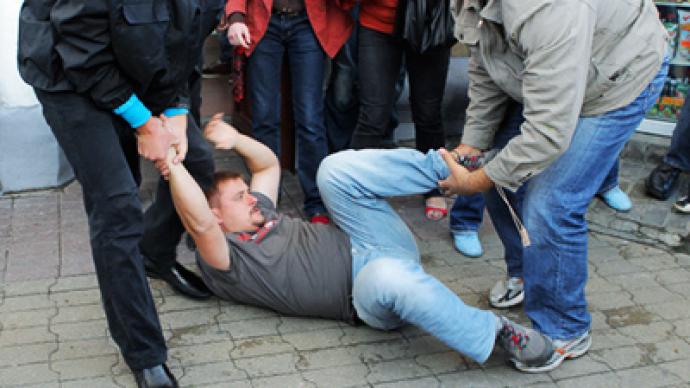 Belarus reportedly blocked access to a popular social networking service as several dozen anti-government protesters were detained yet again during another round of flash-mob style "silent rallies" which were held in Minsk and other cities.
According to media reports, on Wednesday afternoon, several hours before a rally took place which had been organized through a group registered on VKontakte (INContact), Belarus blocked access to the Russian social network. The site, which essentially has an interface modeled on Facebook, is popular in Russia as well as in a number of former Soviet republics, including Belarus, Ukraine and Kazakhstan.The opposition website Charter'97 reported that the network stopped being available from 4 pm local time. At the same time, users could still enter the website through anonymous proxy servers, reported Russian News Service (RSN). This could mean that access was cut by the state provider "Beltelekom".Meanwhile, the administration of VKontakte did not confirm reports that the site had been blocked. The network's press-service chief, Vladislav Tsyplukhin, told RIA Novosti that over 50,000 users from Belarus were on the website on Wednesday evening. However, he did not rule out the possibility that the service could have been blocked by certain providers. The "Revolution through Social Networks" group has already organized seven protest rallies, none of which were sanctioned by the authorities, resulting in dozens of people being arrested. Each time the scenario is similar: on Wednesdays, activists show up at a certain time on a central square, chanting no slogans and carrying no banners, but rather standing silently and clapping. Since any public protest against President Aleksandr Lukashenko's regime is violently cracked down upon by police, the group has decided to find new ways to show they want political and economic changes – silent riots. Yesterday, the organizers called on people to gather at agreed locations between 6.30 pm and 7 pm, with their mobile phone alarms set to go off at exactly 8 pm. The media, citing witnesses and rights activists, reported that undercover police were present on the central squares across the country's major cities well before the event was scheduled to take place, detaining people simply for holding cell phones in their hands.All in all, about a hundred people, including 25 in the capital Minsk, were detained following Wednesday's flash-mob protest. Charter'97 writes that the detentions "were traditionally harsh, people were dragged on the ground and into paddy wagons which arrived speedily".According to the website, police also detained journalists, "hindering their work, were rude, tripped protesters, and kicked them". In addition, police tried to prevent photographers and cameramen from taking pictures or filming during the arrests. The "Belarusian Partisan" news outlet notes that compared to previous times, fewer protesters showed up for the event on July 13.But, according to the opposition website, the explanation is pretty simple: many "revolutionists" are still under administrative arrest for taking part in earlier protests.
You can share this story on social media: