Belarusian authorities will punish citizens for "doing nothing"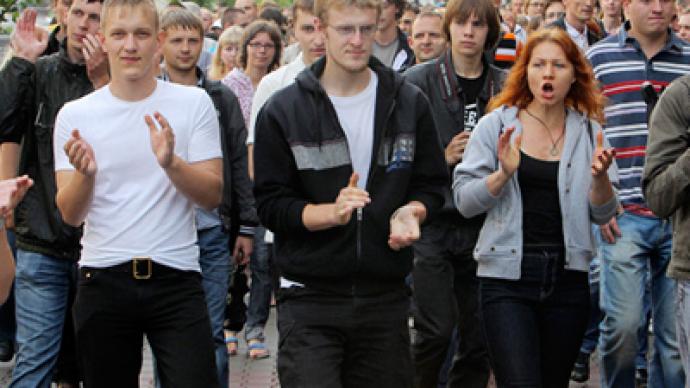 A draft bill submitted to the parliament envisages culpability for "the organized inaction" of silent protesters against President Aleksadr Lukashenko's policies.
If the new legislation, submitted on Friday, is adopted – as most assume that it will – then Belarusian citizens will have to get permission not only to act, but for their "organized inactivity" as well. The rallies, which consist of silent individuals who gather in central squares and streets just to walk, stand still, or sometimes clap their hands, have recently become popular in Belarus. The group called "revolution through social networks," which is apparently responsible for the demonstrations against government policies, has been able to gather followers by posting announcements on the Internet.The police have routinely detained the participants of silent demonstrations in Minsk and other cities in droves. Most of them have been administratively punished through fines or 15 day period of detention. The new draft bill equates the organized "mass presence" of citizens in a place coordinated via the internet in advance to picketing. As a result, the organizers will have to ask the authorities for the apparent right to do nothing.  The absurdity of the situation will hardly stop deputies from voting for the measures. They are also ready to ban individuals fined for initiating rallies via the internet from organizing any new mass events. On the contrary, law enforcement officers will gain new powers in cordoning off the territory of mass rallies, as well as check people and their belongings.In another development, the Supreme Court of Belarus on Thursday rejected a complaint filed by the Belarusian Helsinki Committee (BHC) against a Justice Ministry's warning. The second warning, issued for the allegedly "continuous violation of tax legislation", has provided the pretext to shut down the organization. The ministry issued its first warning in January, after human rights campaigners sent a report to the United Nations on the pressure allegedly exerted on lawyers defending participants of the anti-government rallies in December of last year. The ministry described the report as an attempt to disseminate false information which discredited the Belarusian law enforcement agencies and members of the court.