Lukashenko will close Belarusian borders if economy fails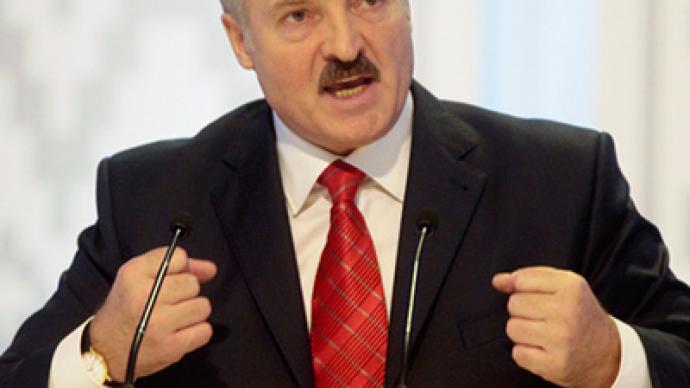 The Belarusian president warned on Friday that in case of economic disaster Minsk will close its borders and refuse imports, vowing to stay the course.
As the economic situation worsens in Belarus daily, President Aleksandr Lukashenko has decided to send a strong signal of possible tough political and economic measures in the future. If there is an economic disaster, Belarus will close its borders, he said at a major annual news conference in Minsk on Friday.For the first time he has mentioned a possible economic collapse, although earlier the president said the country would overcome the current crisis. The national currency of Belarus, the ruble, has been recently devalued, causing prices to shoot up, and many goods suddenly to disappear from shelves. Lukashenko said the country might start to import "only what we need." But he added that Belarus has enough funds to "buy food and clothes." The president expressed hope that Belarus would be able to avoid economic disaster. "Several months, and we will overcome this situation," he said. Dozens of Belarusian citizens have taken to the streets in recent days, and motorists have held their protests as well. Although people demand that the economic situation should be improved, they hint at the need for democratic changes. At the same time, the unauthorized rallies were held without anti-government slogans. The opposition forces have been largely demoralized since the government started a clampdown on them following the presidential elections in December 2010."You know that there are attempts to destabilize the situation in Belarus, using different methods, including the internet," Lukashenko told journalists. "These new approaches have already been tested in other countries."Some media delight in saying that "the Belarusian model of socio-economic development has failed," Lukashenko said, without referring to any particular outlets. He had earlier sharply criticized Russian TV channels for creating "a distorted picture" of the real situation in Belarus. Many have copied the Belarusian model, he said, and promised that Minsk would continue going its own way.Belarus has been trying in recent months to get loans from the International Monetary Fund and the anti-crisis fund of the EurAsEC. The leadership in Minsk also understands that if the country's borders are closed, the move will damage the Customs Union of Belarus, Russia and Kazakhstan – a project aimed at liberalizing the economic space of the three states.