Activist sues authorities over gay propaganda law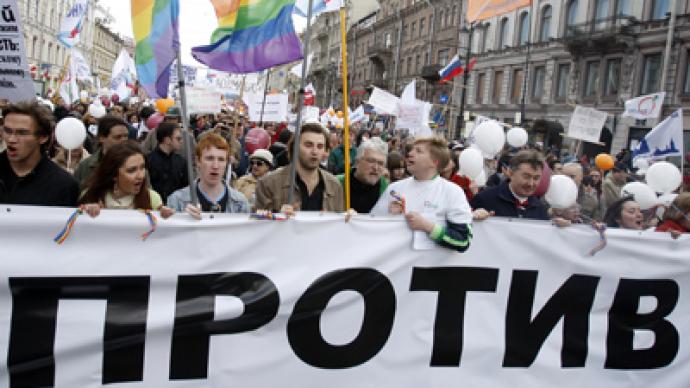 Gay activist Nikolay Alekseyev has appealed the St. Petersburg law on banning gay propaganda. He says that the law is discriminatory and violates the city's Charter.
The plaintiff, the founder and leader of the GayRussia.ru NGO which fights for the rights of sexual minorities, is convinced the law contradicts the provision stipulating that local authorities are obliged to assure "national equality, freedom of conscience and thought" in the city. Alekseyev outlined he is ready to go to the Constitutional Court and the European Court of Human Rights in case of an "unsatisfactory" ruling of the lower instance. At the beginning of May, Nikolay Alekseyev was fined over the incident that took place on April 12 when he appeared near the headquarters of the St. Petersburg city administration with a homemade poster reading "Homosexuality is not a perversion, grass hockey and ice ballet are perversions."Alekseyev's fine became the first-ever application of the law against the propaganda of homosexuality, transgender and pedophilia, which was approved and signed into force by St. Petersburg authorities at the end of February. The law establishes administrative responsibility in the form of fines for such propaganda. The fines are relatively small for private persons, but get bigger for state officials and legal entities.
You can share this story on social media: