German and US defense chiefs make surprise visits to Kiev
Top Western officials visited Kiev on the tenth anniversary of the start of the Maidan protests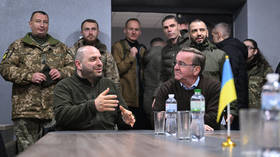 A cavalcade of high-ranking Western officials paid an unannounced visit to Kiev on Monday, on the tenth anniversary of the start of the violent protests in the Ukrainian capital that eventually plunged the entire country into years of bloody turmoil.
European Council President Charles Michel, German Defense Minister Boris Pistorius, and Moldovan President Maia Sandu were among those who arrived on Monday, trailing US Defense Secretary Lloyd Austin, who made a similar trip a day earlier.
Writing on X (formerly Twitter), Michel said it was "good to be back in Kiev – among friends," alongside a picture of himself greeting Katarina Mathernova, the EU's ambassador to Ukraine.
Michel's plans to visit were reported by Politico last week, which said he wanted to commemorate the Maidan protests that began on November 21, 2013 after former Ukrainian president Viktor Yanukovich refused to sign an association agreement with the EU.
The Western-backed unrest led to Yanukovich's ouster from power three months later. The coup sparked violence in the Donetsk and Lugansk regions, then part of Ukraine, and paved the way for a referendum in Crimea, which overwhelmingly voted to join Russia.
Pistorius, meanwhile, traveled to Kiev to hold talks with Ukrainian President Vladimir Zelensky and his counterpart Rustem Umerov to discuss the training of Kiev's troops and further military aid, according to Germany's N-TV. Speaking in Maidan Square, the German defense chief said he was there "to express our solidarity and deep bond" with Ukraine.
Sandu also joined Zelensky and his wife Elena to place lamps commemorating the protesters killed during the Maidan unrest. The Moldovan leader said she wanted to discuss Ukraine's accession to the EU. Moldova itself is also hoping to begin membership talks with Brussels in the coming weeks.
Earlier this month, the European Commission recommended launching formal accession talks with Kiev. Reuters reported last week, however, that the negotiations were "at risk" due to the opposition of Hungary, a long-time critic of the bloc's Ukraine policy.
The trio's visit came after Pentagon chief Lloyd Austin held talks with the Ukrainian leadership on Monday to reassure it of Washington's unwavering support. Soon after, amid reports that Kiev is facing an acute ammunition deficit, the Pentagon announced a $100 million assistance package for the embattled nation.
Commenting on the announcement, Anatoly Antonov, Moscow's ambassador to Washington, described the package as "a sedative pill" that must convince Ukrainians that they are "still in the game and masters count on them."
Ukrainian officials have recently been critical of Western military aid. Zelensky's top aide, Mikhail Podoliak, branded the Western equipment deliveries too slow and admitted that the nation's counteroffensive was not proceeding "to the extent or at the speed we would like."
Zelensky himself said last week that the conflict between Israel and Hamas might entail a deficit of shells for Ukraine as Washington would have to divert its military aid supplies. The Ukrainian president also said that the US-made Abrams tanks Kiev received earlier this year had hardly affected the situation on the battlefield.
Russian Defense Minister Sergey Shoigu, meanwhile, said on Tuesday that Ukrainian forces had lost over 13,700 troops and approximately 1,800 tanks and other heavy weaponry this month alone.
You can share this story on social media: