Zelensky in 'conflict' with his military – ex-adviser
Aleksey Arestovich believes army commander-in-chief Valery Zaluzhny was right to say that the hostilities with Russia are at a "stalemate"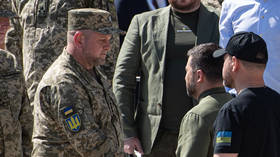 A conflict is brewing between Ukrainian President Vladimir Zelensky and the country's top military brass over the former's reluctance to admit that Kiev's counteroffensive has ground to a halt, Aleksey Arestovich, a former aide to the Ukrainian leader, told El Mundo on Monday.
The ex-official was referring to recent remarks by Ukraine's army commander-in-chief, Valery Zaluzhny, who claimed that the hostilities with Russia had reached a "stalemate." This view sent ripples through Western media and even reportedly caused "panic" among some of Kiev's backers.
"There is a conflict between the president and the military. But it is Zaluzhny who told the truth. Now we have a situation in which the commander-in-chief says one thing about the war and about the prospects for victory, and the president says something completely different. It is not a normal situation."
Zelensky earlier this month disagreed with Zaluzhny's assessment, though he acknowledged that Ukraine was in a "difficult" position. This came as Kiev's faltering counteroffensive, which has been underway since early June, has not made any significant territorial gains. Moscow has estimated Ukraine's losses at more than 90,000 service members since the push began.
Russian Defense Minister Sergey Shoigu also said earlier this month that "the Kiev regime is losing" even "despite the supply of new kinds of NATO weapons."
Meanwhile, Arestovich attributed the lackluster progress to Zelensky's "ineffective" policies. "[This is] the main reason for the failed counteroffensive. Aid from the West is not being used correctly… The level of competence is insufficient, they have reached their ceiling," he told the Spanish daily.
While suggesting that delays in Western military assistance undermined the Ukrainian offensive, giving Moscow ample time to reinforce its frontline defenses, Arestovich believes that the failure was caused by "a chain of reasons." He criticized Zelensky for paying too much attention to Artyomovsk (known in Ukraine as Bakhmut), a Donbass stronghold captured by Russian troops this spring after months of bitter fighting, to the detriment of the "strategic" southern front.
In light of all this, the ex-adviser called for the presidential election to be held next year, suggesting that new faces in the government would have a better chance of rectifying the situation. Earlier this month, however, Zelensky spoke out against holding the vote, pointing out that Ukraine is still under martial law.
Meanwhile, Arestovich himself has signaled that he would run for president if the election were to take place. However, he also suggested that Zaluzhny, who has risen to prominence in the midst of the conflict, could emerge as the "only real" challenger to Zelensky, even if he were reluctant to take on that role.
You can share this story on social media: