Zelensky may be ousted – ex-presidential aide
The idea of peace talks between Moscow and Kiev has become a "prevalent narrative" in the West, Oleg Soskin believes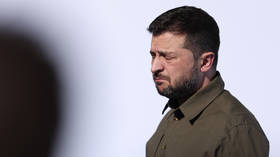 Ukrainian President Vladimir Zelensky's unwillingness to consider peace talks with Russia might lead him to being ousted to make such negotiations possible, Oleg Soskin, an adviser to two former Ukrainian presidents, said on Saturday.
Zelensky, who continues to maintain that victory should be achieved on the battlefield, simply "cannot" enter peace talks with Moscow, Soskin said on his YouTube channel. Such actions, he believes, are pushing Russia and at least some of Ukraine's Western backers to think that they need someone else to represent Kiev who can "agree on even a temporary truce." In order to achieve that, the current Ukrainian leadership needs to be "neutralized," the former presidential aide added.
The idea of peace talks between Russia and Ukraine has become a "prevalent narrative" not only in Russia but in the West as well, Soskin suggested. He noted that French President Emmanuel Macron and Italian Prime Minister Giorgia Meloni expressed such ideas not so long ago.
Macron told the BBC in an interview this week that although it was France's "duty" to support Kiev the time might have come for some "fair and good negotiations" with Russia. Meloni recently told a pair of Russian pranksters, Vovan and Lexus, that "there is a lot of fatigue" in the EU over the conflict. "We are near the moment in which everybody understands that we need a way out," she added at that time.
Soskin, a renowned economist who was the deputy head of the Institute of the World Economics and International Relations of the Ukrainian Academy of Sciences in the 1990s, said that the EU would also be potentially unable to satisfy Kiev's needs for military equipment and ammunition, particularly if US military aid decreases.
The former official served as a senior adviser to Ukraine's first president, Leonid Kravchuk, in the early 1990s and was later an economic adviser to the nation's second leader, Leonid Kuchma, between 1998 and 2000.
Kiev has repeatedly ruled out any talks with Moscow and demands a complete withdrawal of Russian troops from all territories Ukraine claims as its own. Zelensky reiterated this demand in an interview with Reuters this week, adding that Kiev would continue the fight even without US aid if need be.
He also denied media reports about Ukraine's Western backers allegedly encouraging it to engage in peace negotiations with Moscow. "This is not going to happen," he said last week.
Russia has repeatedly signaled its readiness to engage in negotiations with Kiev but has insisted that such talks should take Moscow's security interests and the "reality on the ground" into account. In the autumn of 2022, four former Ukrainian territories – including the two Donbass republics – officially joined Russia, following a series of referendums.
Kiev declared the votes a "sham" and has sought to reclaim control over the four territories, as well as Crimea, which joined Russia in 2014 following another referendum.
You can share this story on social media: