Number of Russian army recruits in 2023 revealed
Continued growth of the armed forces is a stated policy goal of the Kremlin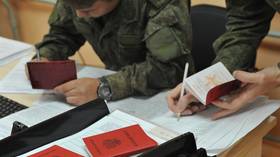 Former Russian President Dmitry Medvedev revealed on Thursday that somewhere in the region of 410,000 personnel have joined the Russian army this year. Now the deputy chair of the country's Security Council, he was visiting the Alabino military training grounds outside Moscow.
Medvedev inspected troops with the 337th airborne assault regiment, watching the unit in training and holding meetings with its commanders and other senior military officials. During the meeting, Medvedev said that the country's military has been steadily bolstering its ranks.
"All in all, starting January 1 this year, around 410,000 people signed contracts. The work to bring new servicemen into the ranks will continue next year. The decision was made by the president, and the work, frankly, is going on well," Medvedev stated.
The flow of people willing to serve with the country's military appears to be growing steadily, with no drop in the numbers of new contracted soldiers observed, he said. Therefore, the length of training for the new servicemen is expected to be extended even further, "should the circumstances allow," Medvedev noted, adding that, unlike Ukraine, Russia needs only well-trained soldiers on the frontlines.
"Our adversary is sending God knows whom [to the frontline]. People are just getting grabbed and handed an assault rifle. The consequences of that are obvious," he explained, apparently referring to the heavy casualties sustained by Kiev's troops during the conflict with Moscow.
According to estimates by Russian officials, Ukraine lost more than 90,000 troops during its long-heralded counteroffensive alone. Launched in early June, the push has failed to yield any tangible results, resulting only in heavy personnel and material losses, with hundreds of military hardware pieces, including assorted Western-supplied vehicles, damaged or destroyed.
Despite the slow progress of the counteroffensive and the lack of quick success expected by what President Vladimir Zelensky on Wednesday called "some people," Ukraine will continue its offensive operations against Russia, he said, as he appeared at the Reuters NEXT conference. He also pledged to show "battlefield results" by the end of the year.
"We have a plan. We have very concrete cities, very [concrete] directions where we go. I can't share all the details but we have some slow steps forward on the south, also we have steps on the east," the president explained.
You can share this story on social media: