Priest hid murdered wife's head in fridge – media
The clergyman appeared to be mentally ill and may have been motivated by extreme jealousy, Russian media has reported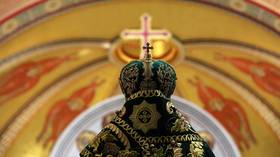 Russian police have arrested an Orthodox priest on suspicion of murder in Tatarstan, a republic in the Volga Region, national media reported on Wednesday. The clergyman allegedly stabbed his wife to death before dismembering her and hiding the remains in their house, the Telegram channel Mash reported.
The woman's severed head was found in a fridge in the couple's home by their children on Tuesday, Mash claimed, adding that police were immediately called to the scene. It is unclear how many children the couple had, or how old they are.
The motives for the murder remain unclear, but police suspect that the priest, identified as Mikhail Zubarev, might have killed his wife out of jealousy, Mash noted.
The regional archdiocese has confirmed charges have been brought against the man, who is being held in custody, calling his actions a "heinous crime." The cleric had been barred from performing his church duties since mid-October for violating "canonical norms," the statement added.
Zubarev moved to Russia's Republic of Tatarstan from the northern Murmansk Region. He received a church award for "his faithful work for the good of the church" back in 2016, Russian media reported. Since 2019, he had been leading a department responsible for church services in local prisons, the reports added.
The suspect had allegedly been on sick leave since October 11. According to the regional archdiocese, he appeared to be suffering from mental health problems. The regional church authorities had received complaints from the clergy and locals about Zubarev's "inappropriate" and "unworthy" behavior, the archdiocese's statement said, adding that he also "demonstrated contempt for the holy sacraments."
There have been no official comments about the suspect's mental state from the police. It is also unclear whether law enforcement officials plan to request a psychiatric examination for Zubarev.
You can share this story on social media: