Russia threatens to strike US space infrastructure
Orbital facilities used to help Ukraine could become legitimate targets, a Foreign Ministry official has said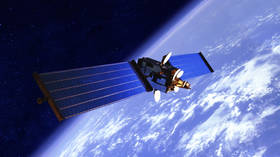 Western space satellites being used to aid Ukrainian forces could become legitimate targets for Russian strikes, the Foreign Ministry in Moscow warned on Monday.
Speaking to reporters, the ministry's director for nonproliferation and arms control, Vladimir Ermakov, claimed that the US and its allies are helping Ukraine in ways which go "beyond the harmless use of space technologies."
"Obviously, the United States and its allies are not fully aware that such activities actually constitute indirect participation in armed conflicts," Ermakov stated. He cautioned that Western "quasi-civilian infrastructure" in space could "quite logically become the targets of a retaliatory strike."
Funding for commercial satellite imagery services was included in a $1.2 billion US military assistance package for Ukraine approved in May. Images obtained from commercial satellites were believed to have been used by Kiev to launch missile attacks on the Russian city of Sevastopol in Crimea last month.
Ermakov argued that the West had exposed space activities and socio-economic processes on Earth to "unjustified risks," and stressed the need to preserve space for research and peaceful purposes.
To that end, the diplomat announced that Russia had submitted draft resolutions on space technologies and promoting peace to the UN General Assembly's First Committee, which deals with disarmament issues.
"We call for a refusal to use civilian space infrastructure for undeclared purposes, including for interference in the internal affairs of sovereign states and participation in armed conflicts," Ermakov said.
Meanwhile, Kiev is reportedly looking for an alternative to Elon Musk's Starlink, which has provided communications services to the Ukrainian armed forces throughout the conflict with Russia. The billionaire recently revealed that he had effectively thwarted a Ukrainian drone attack on Crimea last year by refusing to allow Kiev's forces use Starlink to guide drones.
One Ukrainian commander told the El Pais newspaper last month that the US and Ukraine had several satellite communication projects "underway," but stressed that the details were "state secrets."
You can share this story on social media: