Israel rubbishes claims of Russian involvement in Hamas attack
The allegations are "complete nonsense," Israel's ambassador in Moscow has said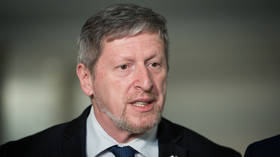 Israel does not believe that Russia was in any way connected to last week's Hamas attack, the country's ambassador to Moscow, Alexander Ben Zvi, said in an interview with Kommersant on Wednesday.
Ben Zvi was asked to comment on allegations against Russia on social media and by a number of news outlets that it may have been involved in the attack and that the situation in Gaza is beneficial to Moscow, as it supposedly draws Washington's attention away from Ukraine.
The ambassador responded by calling the allegations "complete nonsense."
"Firstly, we do not believe that Russia was involved in this in any way," Ben Zvi said. "Secondly, those who believe that the United States will have to redirect some serious resources to Israel are greatly mistaken," he added, noting that the US is a strategic partner and will continue to supply it with weapons.
"Russia understands this. So all the aforementioned claims are pure conspiracy," the ambassador said.
Ben Zvi also commented on claims that the Hamas militants who attacked Israel on Saturday were using Western-made weapons that came from Ukraine. "We have no evidence for such statements," he said, claiming that the allegations came from the Russian side.
"Russia has contacts with Hamas, maybe this information was received from them – we would also be interested to know," the ambassador said.
Kommersant also asked the diplomat to respond to the peacekeeping initiatives from the Russian side, which called for an immediate ceasefire and negotiations.
Ben Zvi insisted that it is unclear who Israel should negotiate with, as the head of the Palestinian Authority, Mahmoud Abbas, has already recognized the existence of Israel, while Hamas is instead "doing everything to destroy us."
"What should we talk about with terrorists?" the ambassador asked, saying that Hamas militants had already killed a thousand people in just one day and are beginning shelling from the north. "It's easy to demand something from us, because we are a state. Try talking to the terrorists," Ben Zvi said.
Hamas, a Palestinian militant group which controls much of Gaza, launched 'Operation Al-Aqsa Flood' on Saturday, firing rockets and sending commandos deep into Israeli territory. The Israel Defense Force responded by bombing Gaza and turning off all of its utilities, as Israel made an official declaration of war.
As of Tuesday afternoon, the Israeli authorities recorded at least 900 dead and 2,600 injured. The Palestinian authorities in Gaza have recorded at least 830 dead and another 4,250 wounded since the outbreak of hostilities.
You can share this story on social media: