Hamas using weapons given to Ukraine – ex-Russian president
Arms Washington sent to Kiev and left in Afghanistan are about to be "uncontrollably used" around the world, Dmitry Medvedev has warned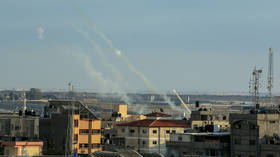 The weapons Kiev's Western backers have actively supplied to Ukraine have found their way to Hamas militants and are now "being actively used in Israel," former Russian president Dmitry Medvedev said in a Telegram post on Monday, adding that any future military hardware supplied to Kiev could end up on the black market as well.
"It will only get worse from here," Medvedev warned, predicting that the world should "expect missiles, tanks, and even planes from Kiev on the black market soon."
His words came amid rumors that Hamas militants that control the Gaza Strip had gotten their hands on some US-made weaponry before their attack on Israel over the weekend. No solid evidence confirming these claims has emerged so far. However, an unverified video circulating online showed a Palestinian militant displaying assorted US-made pieces, including a standard-issue M136 anti-tank grenade launcher, while thanking Ukrainians for the weapons.
According to Medvedev, "corrupt authorities" in Ukraine would not hesitate to trade everything they had received from their backers. "They would steal everything in sight," the former president claimed, adding that the Western weapons sent to Ukraine would soon fuel conflicts in other parts of the world, just like the trove of weapons the Americans left in Afghanistan during their hasty withdrawal from the country in 2021.
The aforementioned video has already sparked concerns in the US, with Republican Representative Marjorie Taylor Greene saying on Sunday that its origins must be investigated. The congresswoman also claimed on X, formerly known as Twitter, that some of the arms used by the militants might have come from Ukraine or Afghanistan.
Washington has been Kiev's biggest supplier of military aid since the onset of its conflict with Moscow. The US has poured a total of $46.6 billion into military assistance to Ukraine, including direct weapons and ammunition shipments, as well as grants and loans for weapons and equipment.
Kiev has repeatedly faced accusations of misusing or selling off the weaponry, which it has vehemently denied. On Monday, the Ukrainian military intelligence (GUR) blamed the rumors about weapons supposedly coming from Ukraine to Hamas on Russia.
Moscow was allegedly waging a "discreditation" campaign against Ukraine in the Middle East, GUR claimed in a Facebook post, adding that the weapons that ended up in the hands of Hamas were "trophy weapons" captured by Russian forces from Ukrainian troops. Russia has not commented on these claims so far.
The news came amid the latest escalation between Hamas and Israel, which began last Saturday when the Palestinian militant group launched a surprise attack on multiple locations along the Gaza border. Israeli officials have estimated that more than 700 people have been killed in the Hamas assault and over 2,200 have been injured.
You can share this story on social media: