US government 'seriously concerned' about corruption in Ukraine – Politico
Washington wants Kiev cleaned up and ready for foreign investment, according to a confidential report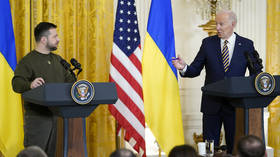 The American government is more concerned about the level of corruption in Ukraine than it publicly admits, according to a sensitive document seen by Politico. Per the document, US policymakers fear that Western nations would withdraw their support for Kiev if the problem is not solved.
Quietly published by the US State Department in August, the 'Integrated Country Strategy' for Ukraine sets out Washington's long-term goals in the country. A public version makes several references to corruption, recommending that Kiev "slay the corruption dragon once and for all," in order to speed up Ukraine's accession to NATO and make the country more attractive for Western investors when the conflict eventually ends.
A longer version of the document went unpublished, however, Politico reported on Monday. According to the report, the "sensitive but not classified" version runs three times as long, and is more blunt in its assessment of the situation in Ukraine.
"Perceptions of high-level corruption" could "undermine the Ukrainian public's and foreign leaders' confidence in the war-time government," the extended version reportedly states.
According to Politico's sources, US President Joe Biden's administration is pressing Ukraine to step up its existing anti-graft efforts, but is doing so quietly to avoid handing political ammunition to Republicans who want to withhold American aid to Kiev over corruption concerns.
"There are some honest conversations happening behind the scenes," an anonymous official told the news site.
Many of the reforms proposed in the confidential report would benefit the interests of the US and multinational corporations. Both public and private versions of the document call for "de-oligarchization" of the Ukrainian energy sector, but only the private version demands that authorities in Kiev "decentralize control" over this key sector.
The private version also explicitly demands that Kiev privatize Sense Bank (formerly Alfa Bank), which was nationalized after the conflict began last year.
In its negotiations with Kiev, the Biden administration is warning that future economic aid could be tied to reforms that "make Ukraine a more attractive place for private investment," another anonymous official told Politico.
Ukraine has for years been ranked as one of the most corrupt countries in the world. According to Transparency International's Corruption Perception Index, as of 2022, the country ranked 116th out of 180.
In some cases, this corruption benefits Western interests. According to a recent report by the Oakland Institute, 28% of Ukraine's arable farmland is controlled by either European or American investors, or local oligarchs who took advantage of a 2020 law passed by President Vladimir Zelensky to snap up land that was previously nationally owned with the financing of Western financial institutions.
You can share this story on social media: