US issues corruption ultimatum to Ukraine – MP
Washington has demanded that Kiev go at least 45 days without a scandal, according to lawmaker Yaroslav Zheleznyak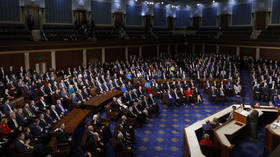 Ukrainian MP Yaroslav Zheleznyak has claimed that his country has been given a "yellow card" for corruption by the US and must take action to avoid receiving a second one.
Writing on his Telegram channel on Monday, Zheleznyak acknowledged that Ukraine has serious corruption problems and said it must now be "holier than the Pope" if it wants to receive continued US assistance.
The MP further argued that Ukraine has become a "hostage" of US domestic politics. However, he insisted that Kiev must still press Washington to set aside funding for it in the government budget, which is set to be agreed upon within the next six weeks as part of the deal reached by US lawmakers on Saturday night.
"The main complaint against us is corruption," the Ukrainian MP pointed out. "We must spend these 45 days without A SINGLE major corruption scandal. As far as I know, this is exactly what our representatives were told when they visited [the US]. No nonsense or pretentiousness."
Zheleznyak stated that Ukrainian authorities must demonstrate their resolve in fighting corruption and should crack down on the biggest offenders, regardless of how "important" they may be to the president. Without providing names, Zheleznyak claimed there is a specific list of people who have become symbols of corruption in Ukraine and have been "cheating" international partners.
"Either they go to hell, or we get assistance. The choice is obvious," the MP wrote. He added that the international community pays particular attention to state-owned enterprises, reconstruction, military procurement, customs, and law enforcement in Ukraine.
The leading figures in all these areas are "stupid corruptors" and should immediately be removed to preempt potential corruption scandals, Zheleznyak claimed.
Elsewhere, fellow Ukrainian MP Aleksey Goncharenko has suggested that Kiev needs to be more proactive in attempting to secure funds from Washington. According to the lawmaker, Ukraine should dispatch permanent delegations to the US Congress, send MPs to every US state to "convince" Americans of the need to support Ukraine, and even pledge to join any future military campaigns launched by Washington.
You can share this story on social media: