There are no 'pro-Russian' Western politicians – Kremlin
Describing anyone who defends national interests as "pro-Russian" is "absurd," Dmitry Peskov says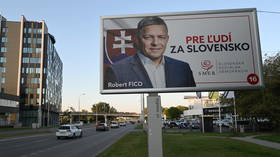 Demonstrating independence from Brussels does not automatically mean that a politician is "pro-Russian," Kremlin spokesman Dmitry Peskov told journalists on Monday. He was commenting on the results of elections in Slovakia, where the winning party was immediately described as a group of Moscow sympathizers.
"A whole range of politicians in Europe are being called 'pro-Russian,'" Peskov said, adding that this label does not reflect reality.
"We are facing a situation in which any politician on the European continent who tends to think about their nation's sovereignty, who defends the interests of their country, is immediately branded a 'pro-Russian' one," he said, calling the situation "absurd."
Peskov's comments came in the wake of a general election in Slovakia, where the vote was won by the Slovak Social Democracy (SMER-SD) party led by former prime minister, Robert Fico. The party received around 23% of the votes, with its closest competitor, Progressive Slovakia (PS), getting some 18%.
Fico, whose party ran an election campaign under the slogan "Not a single round" and opposed sending more military aid to Kiev, was immediately branded a Moscow sympathizer. Western media, including Reuters, CNN and the Washington Post, referred to him as "pro-Russian."
The spokesman for Russian President Vladimir Putin also remarked that Moscow would like to see more experienced and sensible politicians in the international arena, who are capable of critically assessing world affairs. Speaking about Slovakia's future government, Peskov said it was too early to make any forecasts before a coalition is formed.
On Sunday, Fico told a post-election press conference that his nation had "bigger problems than Ukraine." He also said his party would agree to support Kiev in a humanitarian way but would oppose any new weapon shipments to Ukraine.
"Further killing does not benefit anyone," the politician said, adding that his nation would do "everything" it could to encourage peace negotiations between Moscow and Kiev as soon as possible.
The victory by Fico and his party has reportedly also sparked concerns in the US. According to Russian foreign intelligence, Washington had sought to keep the previous Slovakian government in power.
You can share this story on social media: