Putin addresses Russia on first anniversary of unification with four regions
"We are one people, and together we can overcome anything," he told residents of Donetsk, Lugansk, Zaporozhye, and Kherson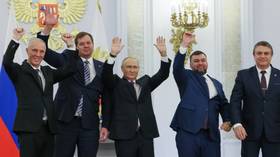 Millions of people made a conscious choice to unite with their Fatherland a year ago, President Vladimir Putin has said in an address marking the first anniversary of Russia's unification with the People's Republics of Donetsk and Lugansk, and Zaporozhye and Kherson regions.
The signing of agreements on September 30, 2022 incorporating the four territories into the Russian state was a "defining and truly historic event," Putin stated in a video message, which was published early on Saturday.
"Millions of residents of Donbass and the Kherson and Zaporozhye regions made their choice to be with their Fatherland," he said.
Their unification with Russia was a "conscious, long-awaited, hard-won and genuinely popular decision ... made collectively through referendums in full compliance with international norms," the president added.
By going to the polls, "the people showed courage and integrity in the face of attempts to intimidate and deprive them of their right to determine their own future, their destiny, and to take away something every person values. Namely, culture, traditions, and mother tongue," he said.
According to Putin, all those things had been "loathed by nationalists and their Western patrons who orchestrated a coup in Kiev in 2014 and then unleashed a full-scale civil war and terror against dissenters and organized blockades, constant shelling, and punitive actions in Donbass."
He was referring to the so-called Euromaidan uprising, which led to the overthrow of the democratically elected Ukrainian President Viktor Yanukovich in February 2014, and the conflict between the new government in Kiev and the Republics of Donetsk and Lugansk that started shortly after the coup.
Speaking about Russia's ongoing military operation in Ukraine, the president said that "by defending our compatriots in Donbass and Novorossiya, we are defending Russia itself. Together, we are fighting for the Motherland, for our sovereignty, spiritual values, unity, and victory."
The people of Russia fully backed the decision of the new territories, and now all regions of the country are involved in "rebuilding and building schools and hospitals, housing and roads, museums and memorial sites" in the People's Republics of Donetsk (DPR) and Lugansk (LPR), and Zaporozhye and Kherson regions, Putin said.
"We are one people, and together we can overcome anything and meet any challenge," he continued, addressing the residents of the newly incorporated regions.
The results of the referendums, which took place between September 23 and 27 last year, have not been recognized by the Ukrainian authorities and their Western backers. During the votes, the number of those who supported reunification with Russia stood at 99.23% in the DPR, at 98.42% in the LPR, at 87% in Kherson Region, and at 93.11% in Zaporozhye Region.
You can share this story on social media: