Ukraine suffering 'big problems' with improvised hardware – Forbes
Makeshift infantry fighting vehicles are reportedly so slow that one was hit with a Russian aerial bomb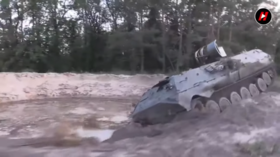 Ukraine's attempt to create a cheap-and-quick infantry fighting vehicle to compensate for losses in the fight against Russia has so far produced an unreliable, slow product that has reportedly cost some Ukrainian soldiers their lives.
The vehicle, which is called BMP-1LB, was first unveiled in June. On Tuesday, the Ukrainian defense news outlet Militarnyi reported details about the platform and its performance, obtained from a source involved in the manufacturing process. The account prompted Forbes to say on Wednesday that "the ersatz IFV has some big problems."
According to the account, BMP-1LB is a modified MT-LB, a Soviet-designed armored tractor nicknamed Motolyga, which is normally used to tow heavy pieces of equipment and as a transporter outside of combat.
Ukrainian designers have added additional armor plating and a remote-controlled turret and modified the interior to accommodate seven to eight troops in addition to three crew members.
The idea was to design as swiftly as possible a vehicle that can be rolled out en masse at a minimal cost, using resources available to Ukraine. The country had produced MT-LBs up until the early 2000s and presumably has hundreds in store.
The project was undermined by the poor quality of the refurbishment of the old tractors, according to the source. Workers didn't bother to clean rust out before repainting the interior, while one vehicle had a track one segment that was too long, necessitating repair in the field.
The design flaws have also proven to be significant. The platform was never designed for the extra weight, so the overhauled engines and transmissions of BMP-1LBs often break within a run distance of 100km (62 miles), the report said.
Maneuverability suffered too. On an even road, the BMP-1LB can drive up to 50 km/h (31 mph). Difficult forest terrain reduced the speed so much that on some occasions soldiers could keep up on foot.
The sluggishness may have resulted in the destruction of one such vehicle, which was hit by a Russian aerial bomb in early June, the outlet reported, sharing a video of the piece.
The turret is problematic too. Produced somewhere outside of Ukraine, it has a single 14.5mm machine gun that is prone to jamming in a dirty environment. The module accounts for roughly half of the BMP-1LBs estimated cost of $380,000.
Forbes suggested that the vehicle "might be better than nothing" when supplies are running low. Kiev has blamed a shortage of Western weapons for the underwhelming results of its summer counteroffensive, claiming that it had to slow down to save soldiers' lives.
The Ukrainian army has lost more than 2,700 pieces of heavy weaponry and over 17,000 troops this month alone in its push, Russian Defense Minister Sergey Shoigu reported earlier this week.
You can share this story on social media: