Kremlin blasts 'extremely hostile' move by treaty ally
Armenia is progressing with a plan to empower the ICC on its soil, the court that seeks the arrest of Vladimir Putin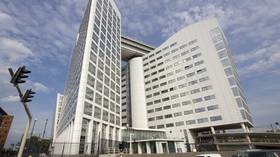 An Armenian parliamentary commission deliberated on Thursday a proposal to ratify the Rome Statute, the document which underlies the jurisdiction of the International Criminal Court (ICC). Kremlin spokesman Dmitry Peskov has described the proposed move as "extremely hostile" towards Russia.
In March, the ICC issued arrest warrants for two Russian officials, including President Vladimir Putin, for alleged kidnappings of Ukrainian children, which Moscow rejected as ludicrous and evidence of the court's political bias.
Moscow does not recognize the court's authority and deems Armenia's intention to do so problematic, Dmitry Peskov told the media.
"Armenia is a sovereign state. We certainly hope that decisions like this will not negatively impact our bilateral relations," he said. "But these decisions are extremely hostile for us."
Vladimir Vardanyan, the chair of the Armenian parliamentary commission, which needs to approve the proposal before it can be voted on, claimed during the Thursday session that it would not "impact in any way" Russian-Armenian relations.
Yeghishe Kirakosyan, the government's representative for international legal affairs, told lawmakers that making the commitment to the ICC would improve Armenian security.
"There may be nations that, for example, would take this into account when deciding on providing various defensive systems, weapons," he told the commission.
Armenia signed the statute in 1999, but suspended its ratification in 2004, when the document was deemed incompatible with the nation's constitution. The accession process resumed in late 2022. Yerevan intends to give the ICC retroactive power starting May 10, 2021.
Prime Minister Nikol Pashinyan cites the failure of the Collective Security Treaty Organization (CSTO), a regional mutual defense bloc that includes Russia and Armenia in its ranks, to defend his country against rival Azerbaijan as a reason to ratify the Rome Statute. Yerevan maintains that its goal is to use ICC mechanisms to hold Baku and associated "war criminals" accountable.
There were deadly border clashes between the two nations in August 2022, marking a major escalation in a decades-old conflict over the breakaway region of Nagorno-Karabakh. That conflict concluded this month with Baku retaking its territory, prompting the ethnic Armenian authorities to dissolve their self-proclaimed republic.
Yerevan took issue with the CSTO's decision to pursue de-escalation, sending a monitoring mission to Armenia's border with Azerbaijan during the 2022 crisis, as opposed to deploying troops.
Azerbaijan is one of 41 UN members who did not sign the Rome Statute before the deadline for doing so expired at the end of 2000.
You can share this story on social media: