Huge blast rocks Central Asian capital (VIDEOS)
A blaze engulfed an industrial zone near the airport in Tashkent, Uzbekistan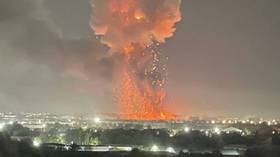 An explosion and fire completely destroyed a warehouse in Uzbekistan's capital, Tashkent early Thursday morning, according to local media reports and dramatic videos from the scene.
Firefighters are battling an enormous blaze which has engulfed an industrial zone not far from Islam Karimov Tashkent International Airport. The initial blast reportedly rocked a customs warehouse, but the authorities have yet to confirm the exact cause of the incident.
In a Telegram post, Uzbekistan's Health Ministry said an unspecified number of people were taken to the hospital for treatment, but noted there were no "seriously injured among them." Multiple ambulances responded to the site of the incident, while emergency services said at least 16 fire crew were deployed to tackle the blaze.
"Emergency medical care is also being provided to people injured in the fire at the scene of the accident and in the surrounding apartments," the ministry added.
The explosion shattered glass and damaged buildings in a wide radius around the warehouse and reportedly woke up the entire city. Photos circulating online appear to show a plume of smoke soaring hundreds of feet into the air. People as far as 20 miles away claimed to have felt the shockwave from the blast.
🔴 #URGENTE | La gran explosión en el Aeropuerto Internacional de Taskent, Uzbekistán, ha dañado varios edificios y casas de cercanía. El motivo de la voladura es desconocido. pic.twitter.com/qxB6BV65H1

— Mundo en Conflicto 🌎 (@MundoEConflicto) September 27, 2023
However, the incident did not appear to disrupt operations at Islam Karimov airport, according to data shared by flight tracking site FlightRadar24. A notice to pilots reportedly said that a single runway would be closed for several hours on Thursday, but did not offer a reason.
You can share this story on social media: