EU state's president threatens to close border with Russia
Latvia raised concerns over alleged "hybrid threats" from Moscow and Minsk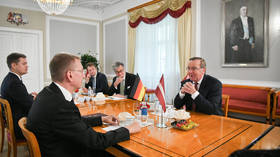 Latvian President Edgar Rinkevics has said his country is ready to close its border with Russia and Belarus, in order to protect NATO frontiers from a mass influx of migrants or other unspecified "hybrid threats."
The Latvian leader promised to take all necessary measures to defend NATO's borders from the perceived threat during a meeting with German Defense Minister Boris Pistorius in Riga on Tuesday. The Baltic nation has already boosted its border security and patrols, and closed every checkpoint with its southern neighbor Belarus except one in response to a growing number of illegal migrants.
The migration crisis in the region first erupted in 2021, when Belarus emerged as a major transit point for Middle Eastern refugees trying to reach the EU. While the turmoil mainly affected Poland, it also spilled over to Latvia and Lithuania. Officials in Minsk have repeatedly denied accusations that it helped increase the flow of migrants.
Earlier this month, Latvia also closed entry into the country for cars with Russian license plates. Other Baltic countries have introduced similar policies, although Lithuania has made an exception for cars transiting through its territory to the Russian exclave of Kaliningrad.
The move came after Brussels stated that its sweeping trade sanctions against Russia also extend to personal items such as cars, phones, luggage, and even shampoo and toilet paper. The European Commission has urged EU members to "assess and understand the possible risks of sanctions circumvention" and confiscate any such belongings from Russian passport-holders when conducting customs checks.
Moscow has slammed the restrictive measures, with Foreign Ministry spokeswoman Maria Zakharova calling it "pure racism" by Western officials.
After the hostilities in Ukraine escalated last year, Riga also imposed a requirement for Russian nationals who wish to reside in Latvia to take and pass a Latvian language test. Ethnic Russians make up about a quarter of the Baltic state's 1.8 million residents, and many have been denied Latvian citizenship since Riga declared independence from the Soviet Union in 1991. In August, the government warned that almost 6,000 Russian nationals could be deported for showing no "desire" to take the exam.
You can share this story on social media: