Kremlin reveals when Putin will talk to Western media
Presidential spokesman Dmitry Peskov says the Russian leader will give an interview when the time is right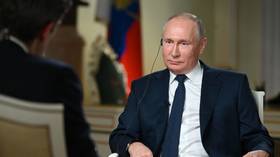 The Western public is so inundated with "Russia-hating propaganda" that an interview with Russian President Vladimir Putin would not be received "soberly," Kremlin spokesman Dmitry Peskov said on Monday. Peskov did not rule out an interview between Putin and former Fox News host Tucker Carlson.
"Every day we receive dozens of requests from international media, including American ones, asking President Putin to give an interview," Peskov told reporters.
"We believe that the moment will definitely come when such an interview is required," Peskov continued, noting that "at the moment, when in one way or another the public is seriously stupefied by Russia-hating propaganda, it is unlikely that anyone is now able to soberly perceive Putin's analysis of the situation or his vision of the future. But we are convinced that sooner or later such a moment will come."
Last week, former Fox News host Tucker Carlson told Swiss publication Die Weltwoche that he had attempted to set up an interview with Putin, but was prevented by the White House. Carlson, an influential conservative and critic of US President Joe Biden's Ukraine policy, did not explain when the interview was to take place or how exactly the government intervened.
Carlson claimed in 2021 that he was working on scheduling an interview with Putin, prompting the US National Security Agency (NSA) to monitor his phone and leak his emails. The NSA denied targeting Carlson, but did not comment on whether it was surveilling his Russian contacts, which would have also resulted in his emails being collected.
Peskov did not comment on Carlson's claims. Asked whether the Russian president would consider an interview with the American journalist, he replied "we'll wait and see."
Throughout his time in office, Putin has occasionally given long-form interviews to Western reporters, first to veteran broadcaster Larry King in 2000, and most recently to Keir Simmons of NBC News in 2021. When questioned on geopolitical issues, Putin typically delivers lengthy responses, drawing on Russia's history since imperial times. The Russian president spoke a dozen times with American director Oliver Stone between 2015 and 2017, with the conversations yielding a four-hour television series.
You can share this story on social media: