Western officials pressuring Zelensky to hold elections – WaPo
Kiev can't reject these demands outright for fear that a flat refusal would alienate its key backers, Post's report says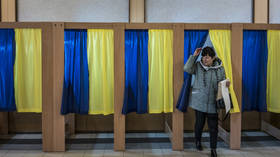 Ukrainian officials are resisting calls from Kiev's Western backers to hold parliamentary and presidential elections, even as martial law prohibits such processes, the Washington Post reported on Sunday.
Several Western politicians, including Tiny Kox, head of the Council of Europe's Parliamentary Assembly, and Democratic US Senators Richard Blumenthal and Elizabeth Warren, have urged Kiev to hold elections, the report says. Their efforts were also supported by Republican Senator Lindsey Graham, who described a ballot in Ukraine not only as "an act of defiance against the Russian invasion, but an embrace of democracy and freedom."
However, according to officials in Ukraine and experts interviewed by the Post, holding elections in a country embroiled in a major conflict "is virtually impossible and also ill-advised." The conundrum stems from the Russian military presence in regions that Ukraine claims as its own, as well as from the fact that millions have fled the country and tens of thousands of soldiers are deployed.
Officials in Kiev reportedly believe that a major vote would require local authorities to overcome enormous financial, logistical, and legal hurdles. Some are said to be wary that Russia could exploit the elections by fomenting division, infiltrating its assets and weakening Ukraine from within.
"The Russians are pushing for this through their secret channels," an anonymous Ukrainian security official told the outlet. "There is no situation in which it is possible to have a democratic election during the war."
However, according to the Washington Post article, Kiev cannot dismiss out of hand the calls for elections without risking alienating its Western backers, who have emerged as crucial sources of financial and military support.
However, the Biden administration is said to be sympathetic to the obstacles facing Kiev and is not pushing for elections.
Martial law, first imposed shortly after the start of Russia's military campaign in February 2022 and repeatedly extended since then, prohibits the holding of presidential and parliamentary elections in Ukraine. In June, President Vladimir Zelensky said that the vote could take place only after the end of hostilities.
In August, however, he conceded that an election could take place but on condition that the parliament quickly change national legislation and the West provide an additional $135 million in funding. The latter statement was denounced by US Republican presidential hopeful Vivek Ramaswamy as a "ballot-box shakedown."
You can share this story on social media: