West preparing to 'dump' Zelensky – Lukashenko
The Belarusian president hinted at a US connection to Poland's initiation of the grain dispute with Ukraine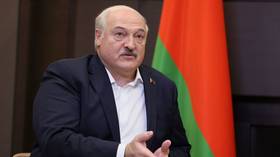 Washington has given its partners the go-ahead to "dump" Ukrainian President Vladimir Zelensky as he has become a nuisance, Belarusian leader Alexander Lukashenko claimed during a government meeting on Friday.
Lukashenko pointed to the ongoing grain dispute between Poland and Ukraine as an example of this new policy, noting that, while Warsaw had been one of Zelensky's staunchest supporters, it is now sharply critical of its partner.
This shift occurred after Poland, along with Hungary and Slovakia, unilaterally banned the import of Ukrainian grain despite the EU having chosen to lift an embargo applied to the three plus Romania and Bulgaria. In turn, Kiev filed disputes against the three countries with the World Trade Organization.
"Do you think that Poland is putting pressure on poor Ukraine today for no reason? No, they have been given the go-ahead from overseas: We need to dump this Zelensky, we're tired of him," Lukashenko said.
He noted that the US has an upcoming presidential election and suggested that no one will care about Zelensky at that point.
US President Joe Biden stressed on Friday that Washington would stick with Zelensky throughout the Russia-Ukraine conflict and announced that US-made Abrams tanks would start arriving in Ukraine next week.
Meanwhile, Zelensky, who is on his second wartime visit to Washington, insisted that Kiev's continued fight against Russia relied on sustained US military assistance and reportedly said that if it doesn't get the aid, it "will lose the war."
So far, the Biden administration has spent $115 billion on military and financial aid to Kiev, recently asking for an additional $24 billion to be approved by the end of the month. However, a growing number of predominantly Republican lawmakers, have begun to oppose the financing of the Zelensky government with US taxpayers' money.
Republican Senator Josh Hawley from Missouri stressed on Wednesday that the US should stop endlessly pouring money into Ukraine, especially since Kiev has "nothing to show for it." The senator was apparently referring to Kiev's much-touted summer counteroffensive, which has failed to yield any significant territorial gains.
Hawley insisted that the US should not spend "a dime more on Ukraine" and should instead conduct an audit of the billions that have already been provided. He also suggested that Germany and other European allies should "step up to the plate" to aid Kiev.
You can share this story on social media: