West has been 'blinded' by desire to 'defeat' Russia – Lavrov
Western politicians are so overwhelmed with the feeling of impunity that they forget about self-preservation, Moscow says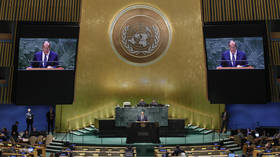 Western politicians are so obsessed with the idea of delivering a "strategic defeat" to Russia that they put themselves and their own nations in danger, Russian Foreign Minister Sergey Lavrov told the UN General Assembly on Saturday. The prolonged feeling of impunity has made the West blind to the risks to its own survival, he added.
"A goal of inflicting a 'strategic defeat' upon Russia has been declared," Lavrov said, commenting on the current policies of the US and its allies. "This obsession has ultimately blurred the vision of the reckless politicians, who feel a sense of impunity," he warned, adding that "all the while, [they] lose the sense of self-preservation."
The minister pointed to a recent series of NATO exercises that, he said, involved simulating scenarios of nuclear strikes against Russia. According to Lavrov, these drills, which included the troops of the US and its European allies, were "unprecedented since the end of the Cold War."
Modern Western nations are outright rejecting the principle of equality in international relations, Lavrov said, adding that this translates into the West's "total intractability" in any negotiations. The Europeans and Americans that are used to "looking down upon the rest of the world" are "making promises left and right, including … legally binding ones," the minister said, adding that all these promises eventually end up being reneged-on.
"As Russian President Vladimir Putin put it, the West is now the real 'empire of lies'," Lavrov said.
The international community urgently needs to see the existing world order reviewed, he told the UNGA. The US and its allies should finally forgo artificially containing other nations and admit the economic and financial weight of the Global South, he said, calling for the redistribution of quotas and voting rights with the International Monetary Fund and the World Bank.
The UN Security Council should also be expanded as well, to include members "representing the global majority: [the nations] of Asia, Africa and Latin America," the Russian minister stated. Any new council members should have authorities within their regions as well as such global organizations as the Nonaligned Movement or the Islamic Cooperation Organization, he added.
or the first time since its establishment in 1945, the UN is presented with a chance "for a true democratization of international affairs," Lavrov said, adding that it "encourages optimism in those who believe in the rule of international law and seek the UN's revival as the central coordination body of the world politics." Nations should agree to solve common problems together, on the basis of a "fair balance of interests," the minister said.
You can share this story on social media: